One of the great barriers to ending the global AIDS epidemic is still that of human compassion. While new HIV infection rates have dropped by up to 50% in many countries over the last two years, and 8 million people living with HIV around the world are now on life saving medical treatment, the HIV symptom we still struggle to overcome is shame.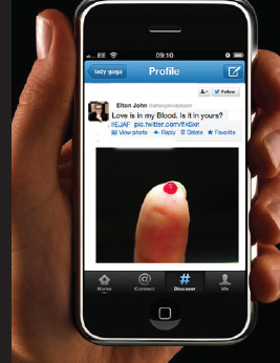 This Valentine's Day, the day of international love, Elton John and a host of singers, artists, writers and sportspeople including Jessie J, Florence Welch, Ben Drew, Ai Weiwei, Elizabeth Hurley, Paulo Coelho, George Takei, Kelly Osbourne, Lara Stone, Stephen Fry, David Walliams, Jamie Oliver and Shane Warne are showing their love by pricking their fingers, creating a spot of blood and tweeting the image accompanied by the words 'Love Is In My Blood'.
The campaign, which comes from Elton's AIDS Foundation, is designed to create a global conversation; reminding the world that the fight against AIDS is winnable, but only if we have enough love and compassion to ensure that no one is shut out, left behind or made to feel ashamed.
"Now more than ever we know how to beat AIDS," comments John, whose AIDS Foundation marks its 20th anniversary this year. "Thanks to incredible work by the AIDS community over the past 20 years we now have affordable, quality treatment which saves lives and dramatically reduces the chances of passing on HIV. But these medicines don't work against prejudice and discrimination. It's time to stop treating people who are most vulnerable to HIV as outcasts. Everyone deserves the chance to protect themselves. Surely we have enough love for that."
"A little drop of blood, a huge wave of love and a great surge of generosity – let them lead to an end to HIV/AIDS around the world," comments Stephen Fry.
Artist Ai Weiwei has created a film commercial inspired by the campaign. "The work is about love, about a need for all to be concerned with life," Weiwei says. "When Elton asked me to create something for the Foundation, I wanted to contribute by finding an expression that raises awareness for this crisis among as many people as possible." A 30 sec and 60 sec version of Weiwei's commercial – which features the words 'Love is in OUR Blood' over drops of blood and the sound of a heartbeat, will run simultaneously on Thursday 14 February on YouTube, and for 24 hours from the time people wake up on Valentine's Day throughout the day until midnight on screens in Times Square, Piccadilly Circus and Independence Square in Kiev, Ukraine, which has the largest AIDS epidemic in Europe.
"Of course we want people to protect themselves and everything we fund promotes safe sex, clean disposable needles and condom use" says David Furnish, Chairman of the Elton John AIDS Foundation. "The idea of this campaign is not to get everyone pricking their fingers, but to get the world's attention; to challenge the equation that HIV + blood only equals fear and isolation. What pumps through our veins is also the love and compassion to keep one another safe AND look after people when they need it. The only question is whether we are ready to show it."