Food Bank For New York City raised a record setting $1.95 million for hunger relief at its star-studded 30th anniversary Can Do Awards Dinner on Tuesday.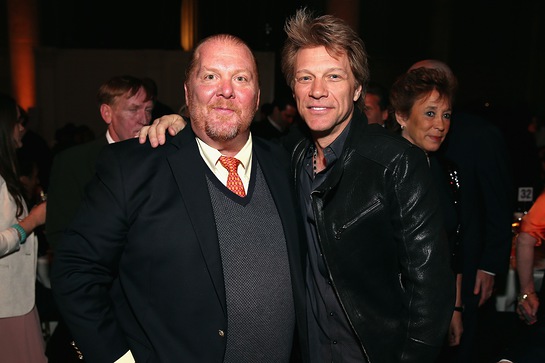 Mario Batali and Susan Cahn, Diane Sawyer & The ABC News Hidden America Team, Food Bank For New York City founder Kathy Goldman, Delta Air Lines, and Mission Partner Target were honored for their commitment to end hunger at the event, held at Cipriani Wall Street.
Hosted by Tony Shalhoub, the event featured a special musical performance by Jon Bon Jovi.
Special guests at the event included Chelsea Clinton, Lauren Bush Lauren, Alyssa Miller, Tom Colicchio, Mariska Hargitay, Jason Patric, Grace Potter, Rachael Ray, Michael Stipe, Justin Tuck and many others.
Food Bank For New York City recognizes 30 years as the city's major hunger-relief organization working to end food poverty throughout the five boroughs. As the city's hub for integrated food poverty assistance, Food Bank tackles the hunger issue on three fronts — food distribution, income support and nutrition education — all strategically guided by its research. Through its network of community-based member programs citywide, Food Bank helps provide 400,000 free meals a day for New Yorkers in need. Food Bank's hands-on nutrition education program in the public schools reaches thousands of children, teens and adults. Income support services including food stamps, free tax assistance for the working poor and the Earned Income Tax Credit put millions of dollars back in the pockets of low-income New Yorkers, helping them to achieve greater dignity and independence. 94% of donations go directly toward food distribution, acquisition and programs in all five boroughs of New York City.