To commemorate the 12th anniversary of the events of Sept. 11, 2001, Sarah Tuft's prestigious and storied play '110 Stories', will be presented in Los Angeles on Sept. 11th at The Nate Holden Performing Arts Center.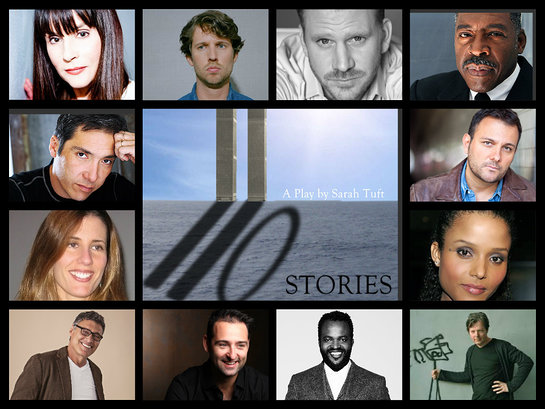 A love letter to New York City, 110 Stories shares the stories and perspectives of those who lived through the experience.
The play, which is based on firsthand survivor accounts, will feature portrayals by Golden Globe nominee Diane Venora (As You Like It, Heat, The Insider, Bird); two-time Golden Globe nominee Steven Bauer (Ray Donovan, Traffic, Scarface), Dash Mihok (Ray Donovan, Silver Linings Playbook), Sydney Tamiia Poitier (Death Proof, GrindHouse, True Crime), Ernie Hudson (Ghostbusters, Miss Congeniality II); Jon Heder (Napoleon Dynamite, Blades Of Glory); Screen Actor's Guild nominee Stelio Savante (Ugly Betty, My Super Ex-Girlfriend); Benito Martinez (Sons Of Anarchy, The Shield), Ethan Kogan (Dr. Gutman's Eulogy), and Jessica Silvetti (Problem Of Evil). The play is directed by Rudolf Buitendach, narrated by Sal Masekela, and other celebrity performers will be announced soon.
Tickets can be purchased at www.Itsmyseat.com/110stories The performance starts at 8 pm and ticket prices range from $25-$55. All ticket purchases and donations are tax-deductible.
In 110 Stories, a firefighter leads a journey through the morning and events of September 11th and into the recovery through a blend of the words and reflections of 30 characters, including an iron worker, a policeman, a homeless couple, a photojournalist, a K9 handler, a doctor, a body worker, a chaplain and a volunteer, among others.
The play was most recently presented at NYU Skirball Center for the Performing Arts in 2011 and at The Geffen Playhouse in Los Angeles in 2010.
All net proceeds from the performance will be donated to benefit Operation Gratitude, a non-profit organization that sends care packages to the military and is supported by First Lady Obama, and Hollywood celebrities including Ben Affleck, Gary Sinise, and Ed Asner.
"I'm delighted to bring this to Los Angeles for the second time. Sarah's compelling play defines the victory of the human spirit over adversity despite all of our differences, and in honor of those who are no longer with us," said Savante, who is the show's Lead Producer in addition to being a longtime, original member of the cast.
The performance also offers those who cannot attend the opportunity to purchase and donate tickets to be given to a Military Service Member, Veteran or Emergency First Responder. For more information, email Operation Gratitude at opgrat@gmail.com
110 Stories has a prestigious history featuring performances by Susan Sarandon, Samuel L. Jackson, James Gandolfini, Edie Falco, Cynthia Nixon, Tony Shalhoub, John Hawkes, Ed Asner, Billy Crudup, Jeremy Piven, John Turturro, Katie Holmes, and Katharine McPhee. The play has been featured in an A&E documentary about 9/11 commemoration and has benefitted charities including The Red Cross, Dennis Leary Firefighters Foundation and the New York Says Thank You Foundation.