UNICEF staff at the Commonwealth Games Athlete's Village were treated to a very special visit from Their Royal Highnesses the Duke and Duchess of Cambridge and Prince Harry today.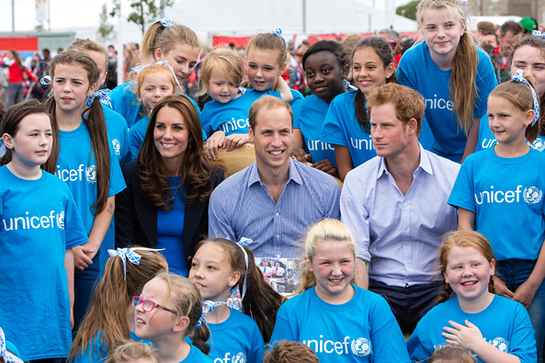 UNICEF UK's Executive Director David Bull said, "We are delighted to welcome Their Royal Highnesses the Duke and Duchess of Cambridge and Prince Harry to join UNICEF in the athlete's village today and are grateful to them for drawing attention to the life-saving work UNICEF is doing with children all across the Commonwealth."
During their visit, Their Royal Highnesses were accompanied by Chieftain of the athletes' village and UNICEF UK Ambassador Sir Chris Hoy and treated to a live performance of Let The Games Begin by East40 – Glasgow children's 2014 anthem for UNICEF – performed by school children from the east end of Glasgow.
East40 singer Jamie Leigh Smith, 16, spoke to Their Royal Highnesses after the performance. She said: "They seemed to really enjoy it, and most importantly, it will mean more people understand that UNICEF is trying to help children across the Commonwealth, including here in Scotland. I hope more people will download the song because every time they do, 76p goes to UNICEF."
The Duke and Duchess of Cambridge and Prince Harry then joined the children in playing three traditional games enjoyed by young people from different countries across the Commonwealth.
Throughout the Glasgow 2014 Games, UNICEF has been leading sessions for athletes and the public to join in these traditional activities, drawing attention to the Put Children First appeal which aims to reach every child in Scotland and around the Commonwealth.
For the full story and more photos, visit the UNICEF Blog.
Source: UNICEF UK