In the wake of last year's overwhelming global support, Helen Woodward Animal Center is uniting with animal-lovers and animal welfare organizations worldwide for the 2nd Annual Remember Me Thursday global pet adoption awareness campaign.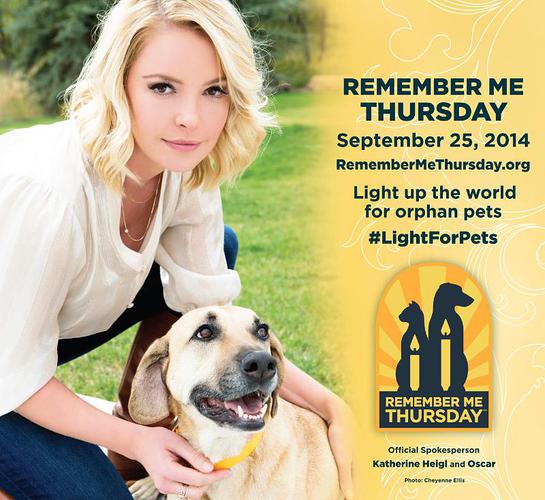 Now some very big names are stepping forward to lend their support to the cause, including Emmy Award winner and Golden Globe nominated actress, Katherine Heigl, who has been named official spokesperson for the 2014 campaign.
Around the world, candles will be lit on the exact same day, honoring the millions of pets who lost their lives over the past year without the benefit of a loving home. Helen Woodward Animal Center encourages the community to take part at scheduled candle-lighting ceremonies or online Thursday, September 25th, 2014 and bring attention to adoptable pets still waiting for forever families.
The first Remember Me Thursday took place on the fourth Thursday in September, 2013. Moved by the staggering statistics of homeless pets who lose their lives each year (The Humane Society of the United States approximates this number at 3.4 million annually in the US.), Helen Woodward Animal Center President Mike Arms put out a call to rescue organizations in an attempt to create a global awareness campaign. As creator of both the International Pet Adoptathon and the International Home 4 the Holidays program which, in partnership with national animal organizations, has placed 9.3 million pets in homes since 1999, Arms was able to send out an expansive request and the response was significant.
139 countries united to support the movement including Germany, Mexico, Canada, Spain, the Philippines, Japan, Puerto Rico, Australia, the United Kingdom, and many more, with over 100,000 individuals holding candle-lighting ceremonies of their own, spreading the message through social media, visiting the Remember Me Thursday website or lighting a virtual candle.
Now in its second year, the Remember Me Thursday campaign continues to expand with multiple candle-lighting ceremonies and special events already organized internationally, as well as an A-list lineup of celebrity supporters.
As official spokesperson, Katherine Heigl adds another charitable title to her growing list of animal-focused endeavors. The award winning actress, best known for her starring roles in such films as 27 Dresses and Knocked Up, and her portrayal of Dr. Isobel 'Izzie' Stevens in the television medical drama Grey's Anatomy, is co-founder of the Jason Debus Heigl Foundation, an organization dedicated to animal welfare. A dedicated mother of two girls, and loving guardian to a menagerie of pets, Heigl is also set to star in the NBC drama series State of Affairs this Fall. She is taking time out of her busy schedule to champion homeless pets and is featured with Oscar, one of her adopted dogs, in a downloadable poster for participating animal organizations.
"Every day in America, 10,000 pets are killed for lack of a good home," stated Heigl. "It is important to not forget those animals who have been euthanized in our shelters across America and to focus on those still waiting for a home. Remember Me Thursday is our opportunity to bring to light these homeless pets and I am honored to be the spokesperson for such an important and powerful message."
Heigl is not the only celebrity supporter. Accomplished Emmy and Tony-award winning actress and singer Kristin Chenoweth is lending her voice once again by offering her inspiring song "It Will Be Me" as the official anthem of the Remember Me Thursday campaign video. Other actors, comedians, pet behaviorists and professional athletes are showing their love for orphan pets by taking the title of campaign "Luminaries," reminding the public to light a candle Thursday, September 25th, 2014.
Animal loving celebrities are also sharing their thoughts on pet adoption via video PSAs (public service announcements) in a special online gallery and via their social media accounts. At press time, luminaries include:
Alan Cumming – currently starring on Broadway in his Tony Award winning performance as the Master of Ceremonies in Cabaret, as Eli Gold in the CBS series The Good Wife and author of the upcoming memoir, Not My Father's Son (Day Street Books, October 2014);
Anže Kopitar – professional ice hockey player, Olympian, two-time Stanley cup winner, and the alternate captain of the NHL's Los Angeles Kings;
Beth Stern – TV host, model, author (Oh My Dog! Gallery Books, 2010), animal advocate, and the national spokesperson for North Shore Animal League America;
Carrie Ann Inaba – award winning television host, choreographer and producer, best known for her role as a judge on the ABC hit, Dancing With The Stars and founder of charitable organization The CAI Animal Project;
David Backes – NHL hockey player and captain of the St. Louis Blues, two-time Olympian and Silver medalist, co-founder with wife Kelly of the non-profit organization, Athletes for Animals, a united team of professional athletes with a shared passion for rescuing and protecting the welfare of homeless pets nationwide;
Diane Keaton – American film actress, director, producer, screenwriter, and author. Diane is a lifelong animal lover, Board Member of Helen Woodward Animal Center, and proud guardian of many rescued creatures;
Eric Roberts – Academy Award and Golden Globe nominated actor of both film (Runaway Train, Pope of Greenwich Village, The Expendables) and television (Less Than Perfect, Heroes, Crash);
Ian Somerhalder – American actor and philanthropist, best known for playing Boone Carlyle in the TV drama Lost and Damon Salvatore in the TV drama The Vampire Diaries and founder of Ian Somerhalder Foundation which aims to empower, educate and collaborate with people and projects to positively impact the planet and its creatures;
Jackson Galaxy – cat behaviorist with more than fifteen years of experience – and the host of Animal Planet's hit show My Cat From Hell;
Jeff Carter – Olympic Gold Medalist, two-time Stanley cup winner, current player for the NHL's Los Angeles Kings;
Kathy Najimy – acclaimed actress of film (Sister Act 1 & 2, Hocus Pocus, Rat Race, Wall-E), television (VEEP, The Big C, Numb3rs, Veronica's Closet, King of the Hill), and stage (The Kathy and Mo Show, Dirty Blonde) and outspoken activist on women's, gay, and animal rights;
Kristin Bauer van Straten – American film and television actress including HBO series True Blood, Seinfeld, and sorceress Maleficent in the ABC series Once Upon a Time, and producer of Out For Africa, a documentary about the plight of endangered elephants and rhinos;
Kristin Chenoweth – Emmy and Tony Award winner and Hollywood Bowl and Oklahoma Hall of Fame inductee, Kristin Chenoweth effortlessly transitions between stage, television, film and an accomplished singing career. This fall, she will host the PBS Arts Fall Festival and release a live concert CD/DVD entitled Coming Home. Next year, she will co-star in the Universal film The Boy Next Door and make her return to Broadway in On the Twentieth Century;
Mark Buehrle – professional baseball player, World Series Champion, five-time World Gold Glove Award winner, and starting pitcher of the Toronto Blue Jays;
Sara Rue – critically-acclaimed actress best known for the roles she played as Claudia Casey on the sitcom Less Than Perfect, Carmen Ferrara on the comedy-drama Popular, and Kim on Malibu County;
Tamar Geller – famed canine coach and author of The Loved Dog: The Playful, Non-Aggressive Way to Teach Your Dog Good Behavior (Gallery Books, 2008) and 30 Days to a Well-Mannered Dog (Simon and Schuster, 2011) and founder of nonprofit Operation Heroes & Hounds pairing shelter dogs with injured military.
Remember Me Thursday asks organizations and individuals to dedicate the fourth Thursday of September, annually, to remembering the millions of homeless pets who lost their lives over the last year. By uniting in this way, the worldwide awareness campaign hopes to shine a light on the millions of healthy and loving orphan pets still awaiting adoption. Individuals can get involved by attending a candle-lighting ceremony at their local shelter, or assisting with organizing one; lighting a virtual candle on-line at www.remembermethursday.org; changing their social media profile pictures to the Remember Me Thursday icon all day, September 25th; spreading the word about Remember Me Thursday on Facebook, Twitter, Instagram and other social media channels using #LIGHTFORPETS; and most importantly by always adopting and encouraging friends and family to do the same.
For more information on Remember Me Thursday and a full list of participating celebrities and animal welfare organizations, go to www.remembermethursday.org.