Prince Harry today showed his support for The Royal British Legion's Poppy Appeal as the 'Poppy Bus' called at Buckingham Palace on London Poppy Day.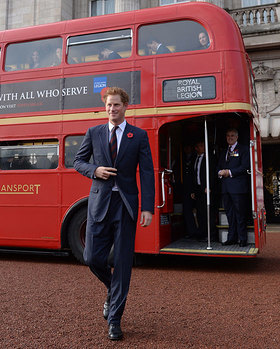 The Royal stop was the first on a journey taking the 1960s Routemaster from Covent Garden to Leadenhall Market. For Prince Harry it was a chance to thank some of those hoping to raise £1 million in just 12 hours across the capital to support the Armed Forces community.
Passengers included Grammy and Brit Award singer Joss Stone who teamed up with guitar legend Jeff Beck to record this year's official Poppy Appeal single. Also on board were Barbara Windsor and her former EastEnders co-star-turned BBC One 'Our Girl' Lacey Turner, and some of those the Legion has helped including Maurillia 'Simi' Simpson.
Simpson left Trinidad and Tobago aged 16 with a dream to join the British army. In 1999 she moved to England, replied to the 'Be The Best' advert and joined the Royal Logistics Corps. She served three tours of Iraq before a motorist ran a red light, knocking her unconscious and leaving her in need of support for years to come. Medically discharged in 2013, she joined The Royal British Legion's Bravo 22 Company, a unique theatre project for wounded, injured and sick military personnel, and went on to star in its critically acclaimed West End play 'The Two Worlds of Charlie F'.
Maurillia 'Simi' Simpson said: "It's very special to see everyone getting behind the Poppy Appeal and the work of The Royal British Legion. The Poppy is about remembrance but it also symbolises hope for the future of the living – for the Armed Forces community of all ages and their families."
Next stop was at No 10 Downing Street.
London Poppy Day began in 2006 as a group of 10 collectors who raised £500. It is now the largest one-day street collection event of its kind and a key part of the Legion's national Poppy Appeal, launched with a sunrise-to-sunset 'Watch' at the Cenotaph last week. By Armistice Day some 45 million Poppies will be distributed by 350,000 collectors with the aim of raising £40 million.
Today 2,500 collectors converge at over 60 tube and train stations across London, on the Thames Clippers, at hubs like Covent Garden, and inside over 70 of London's major firms. The Poppy Bus, owned by London's Transport Commissioner Sir Peter Hendy CBE, will go on to call at Number 10 and the Tower of London, where ceramic poppies represent British military fatalities in the First World War. This year marks the centenary of the start of that conflict, where the poppy fields grew amongst the graves of the fallen.
Charles Byrne, Director of Fundraising for The Royal British Legion, said: "Many of the challenges facing those returning from that war affect Serving personnel, veterans and their families today. Whether it's finding employment or housing, coping with financial stress, or living with physical and psychological challenges, they can still call on the Legion for help. Ultimately it's public support that enables the Legion to provide that practical care – and why the Poppy Appeal is so important."
Entertainment from the likes of street magician Troy Von Scheibner and X Factor finalists Rough Copy (Victoria Station), The Band of The Parachute Regiment (Liverpool Street) and the Countess of Wessex's Strings Orchestra (Leadenhall Market) will entertain commuters. Covent Garden is staging performances from Britain's Got Talent stars Lucy Kay and Jonathan Antoine, the RAF Spitfires Choir and the Royal Army Physical Training Corps Edwardian Display Team with the piazza also hosting a First World War Sopwith Camel biplane and Red Arrows flight simulator.
Joanna Lumley, Sir Terry Wogan, Emma Freud, Stephen Fry and Trevor Nelson are among 21 familiar voices reading public announcements across the London transport network. Players from Arsenal, Chelsea, Fulham, Queens Park Rangers, Tottenham Hotspur and West Ham are also among those urging commuters to wear their poppies with pride. The messages will be played at over 70 London Underground stations, on all 8,500 London buses and 11 Network Rail mainline stations.
Transport for London (TfL) is displaying Poppies on all Tube and Docklands Light Railway trains, the Emirates Air Line cabins and Trams. Two tube trains, a London Overground train and 10 London buses are completely wrapped in a special design with a line from John McCrae's 1915 poem 'In Flanders Fields' which also featured on 2,000 limited edition Tube maps, while other London Underground and Network Rail stations are decorated in a special Poppy livery.
M&S has donated £12,500-worth of food vouchers to provide lunch for all volunteers. Britain's train companies are providing free rail travel into London for all volunteer collectors including veterans and TfL has organised free travel for all uniformed Service personnel and veterans collecting on London Poppy Day. Many found themselves alongside more than 100 Barclaycard volunteers with handheld card terminals that made donations easy for even the most time-pressed commuter. G4S collects and counts the cash from sites across London to see if the £1m target is reached.
Source: Royal British Legion