March Of Dimes, the leading non-profit organization for pregnancy and baby health, raised a record $1.1 million at their 9th annual March of Dimes Celebration of Babies: A Hollywood Luncheon event last weeks at the Beverly Wilshire Hotel in Los Angeles.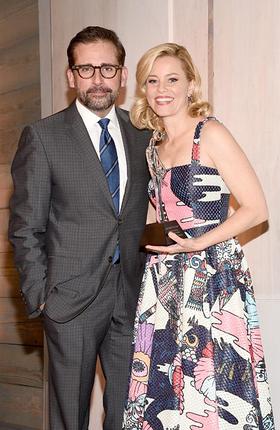 The 2014 honorees were actor/filmmaker Elizabeth Banks, who was presented with the March of Dimes Grace Kelly Award and Elizabeth Gabler, President, Fox 2000 who was named the March of Dimes Inspiring Woman of the Year. Additionally, Dr. James Byrne and Herman L. Hedriana M.D. were honored for their medical contributions to the cause. Celebration of Babies is chaired by Jimmy Horowitz, President of Universal Pictures, and his wife Joi Horowitz, as well as producer Wyck Godfrey and his wife Mary Kerr.
The March of Dimes Celebration of Babies event brings together and recognizes celebrities and prominent individuals in the entertainment community who are celebrating the recent birth of a child and are role models for the March of Dimes mission to improve the health of babies by helping moms have full-term pregnancies, with the goal that one day all babies will be born healthy.
Actor and filmmaker Elizabeth Banks received the 2014 March of Dimes Grace Kelly Award, which recognizes role-model celebrity parents who share the organization's commitment to healthy pregnancies and families. The award was presented by actor Steve Carell.
"It's an honor to be recognized by the March of Dimes with the Grace Kelly Award," said Banks. "As a mother, you realize very early on when you're holding your baby that your greatest wish for them is that they are happy and healthy. For more than 75 years, March of Dimes has been helping moms take charge of their health and helping families in the face of premature birth and birth defects. I'm proud to support March of Dimes in their ongoing commitment to healthy pregnancies and families."
Elizabeth Gabler, President of Fox 2000, was honored as the March of Dimes 2014 Inspiring Woman of the Year for her accomplishments as a leader in the entertainment industry and as a dedicated mother.
"March of Dimes research, education, and advocacy is critical aspect of building a world of healthier mothers and babies," said Gabler. "Each year in the United States, four million babies are born and the March of Dimes mission work has touched every single one of them. I'm thrilled to be honored as their Inspiring Woman of the Year and to represent working moms everywhere."
Actor and March of Dimes Mission Dad Chris Pratt shared his story of prematurity with the assembled crowd and debuted a new March of Dimes informational video for which he provided the voice-over.
Jason Bateman served as master of ceremonies for the exclusive luncheon at the Beverly Wilshire Hotel. Other celebrities in attendance were: Aaron Taylor-Johnson (Avengers); Eddie Redmayne (The Theory of Everything); Emily Blunt (Into the Woods); John Krasinski (The Hollars); actor/director Ron Howard; actress/singer Selena Gomez; Alyssa Milano; Phoebe Tonkin; and, Shanola Hampton (Shameless); among many others.
President of Universal Pictures Jimmy Horowitz and producer Wyck Godfrey served as Celebration of Babies event chairs, alongside their wives, Joi Horowitz and Mary Kerr.
"Honoring Elizabeth Banks and Elizabeth Gabler was a dream come true for everyone involved with Celebration of Babies and I'm thrilled March of Dimes was able to count on another year of generosity from Hollywood at this year's luncheon," said Horowitz. "As the parents of a premature baby, Joi and I know how vital the work of March of Dimes is and Celebration of Babies provides critical resources to continue their work on behalf of families and babies around the country."
Godfrey added, "This year's honorees have long-been recognized for their talent and leadership in the entertainment business, but at this March of Dimes Celebration of Babies fundraiser we honor them for their dedication to family and community. I'm proud that our industry has been so quick to get involved in this important cause and I want to thank this year's honorees and March of Dimes for their tireless efforts that make this special event possible."
Event co-chairs include: Gail Berman-Masters, Megan & Peter Chernin, Jordan & John Davis, Lee Gabler, Ann & Jim Gianopulos, Max Handelman, Nina Jacobson, Billy Lazarus & Brian Bumbery, Bryan Lourd, Kelly & Ron Meyer, Amanda & Arnon Milchan, Rebecca & Hutch Parker, Karen Rosenfelt & Ken Blancato, Alissa Vradenburg & Michael Sheresky and Reese Witherspoon & Jim Toth.
Host committee members include: Amanda Anka & Jason Bateman, Lauren & Jason Blum, Catherine & Marty Bowen, Kate & Paul Brooks, Christy Callahan & Jonathan Glickman, Liza Chasin & Matthew Velkes, Laura Dern, Risa & Cyril Drabinsky, Susanna Felleman & Erik Feig, Alex & Brad Fuller, Ashley & David Kramer, Donna Langley & Ramin Shamshiri, Francis Lawrence, Phil Lord, Christopher Miller, Julie & Marc Platt, Lisa & PJ Shapiro, Laura & Jeff Shell, Molly Sims & Scott Stuber, Nancy Utley, Dana Walden, Shailene Woodley, Jessica Kolstad and Carrie & Bill Zotti.
March of Dimes has long-standing ties to the Hollywood community. Since its founding in 1938, supporters over the years have included Frank Sinatra, Elvis Presley, Marilyn Monroe, Eddie Cantor, Grace Kelly, Lucille Ball & Desi Arnaz, Johnny Carson, Sammy Davis Jr. and Louis Armstrong, to name a few.
The 9th Annual Celebration of Babies is presented by Digital Domain and Deluxe Entertainment Services Group.
Source: PR Newswire