Moving pictures taken by High Profile UNICEF Supporters have gone on display for the first time, including never before seen snaps taken by Sir Chris Hoy, Michael Sheen and Eddie Izzard, for a new photo exhibition in London.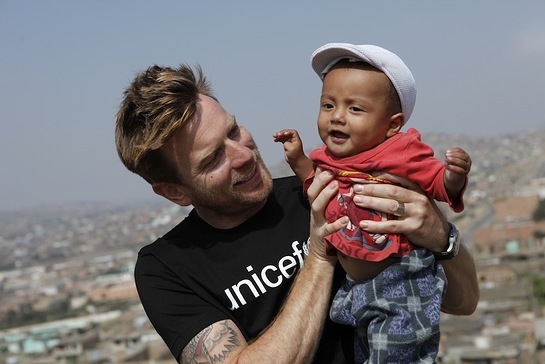 Eleven well known faces feature in the exhibition, some in photos themselves alongside children they have met around the world and others where the stars have got behind the lens, including a couple of selfies.
The full line-up includes Robbie Williams, Lewis Hamilton, Sir Alex Ferguson, Sir Roger Moore, Sir Chris Hoy, Michael Sheen, Orlando Bloom, Ewan McGregor, Eddie Izzard, Jessie Ware and Claudia Schiffer, all of whom have supported Unicef's work for children around the world.
On display from the 14th of November at the Le Meridien Hotel in Piccadilly, London, the exhibition celebrates 20 years of partnership between Unicef and Starwood, which has improved the lives of over 4.5 million children. Since 1995 Starwood guests and employees have raised almost $35 million to help Unicef immunise children against killer diseases, provide clean water for communities, distribute life-saving mosquito nets, establish schools, provide counselling for vulnerable children and much more. The exhibition is free to the public and runs until 29th of November.
Unicef UK Supporter Lewis Hamilton said: "I remember my first trip with Unicef so well. My mum was with me after the Malaysian Grand Prix, and we flew over to the Philippines to see Unicef's programmes for children living on the streets of Manila. I couldn't believe, and still can't, that over 85,000 children live and work on the streets in the capital city. I met three young boys who lived on a vegetable cart with their parents but thanks to Unicef's support were able to attend education classes for street children. I met so many children playing in the streets but I'll never forget the smell of the river in the middle of town where children bathed and swam and the dangers that they face there."
Unicef Goodwill Ambassador Sir Roger Moore said: "I'm proud to say that I was there at the very beginning of Check Out for Children and even prouder that the partnership is still going strong two decades later. I have visited Unicef programmes around the world and have seen first-hand the incredible difference that is being made to children's lives."
Among the stars who have taken their own photos for the exhibition, Michael Sheen shared a photo of a young Syrian boy in a refugee camp in Lebanon, Eddie Izzard and Sir Chris Hoy both shared selfies with children they met on their Unicef visits, Jessie Ware shared a photo of children in a Unicef centre in Cameroon and Emma Bunton shared a picture from her visit to meet children in Madagascar.
Over 370 hotels across Europe, Africa, the Middle East and Asia are involved in the Check Out for Children partnership. The initiative gives Starwood guests the opportunity to add $1, £1 or €1 to their bill to support Unicef. The funds raised will help Unicef provide clean water and safe sanitation for children and families across Africa and the Middle East.
Michael Wale, President, Starwood Hotels & Resorts, Europe, Africa and Middle East said: "Back in 1995 we teamed up with Unicef and Sir Roger to launch Check Out for Children at The Park Tower Knightsbridge (formerly Sheraton Park Tower) where I was general manager. Two decades later, the initiative expanded widely across our hotels helping improve the lives of over 4.5 million children in more than 40 countries around the world. We are extremely grateful to our guests and employees for sharing our passion to do the right thing and raising nearly $35 million for children in need. I believe this partnership will continue to bring hope and opportunities to many more."
As part of its support, Starwood fundraising has helped Unicef to:
• Provide nearly 460,000 Syrian children with an education between 2012 and 2015
• Provide life-saving clean water for 1.8 million people across central and southern Somalia in 2011 (with support of other partners)
• Establish 65 schools in Pakistan following devastating floods to help 10,627 children continue their education in 2011
• Distribute 20,000 mosquito nets to remote communities in Ethiopia in 2009
• Immunise an estimated 1 million children against six killer diseases when the partnership began in 1995