Farm Sanctuary's 30th Anniversary Gala brought out the compassion in Angelenos, celebrities and animal advocates from across the region and country-wide to celebrate 30 years of rescue, education and advocacy for farm animals, the largest population of abused animals on Earth.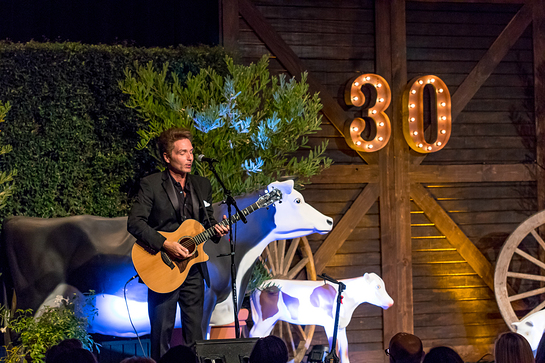 The Gala took place Saturday evening at the Beverly Wilshire in Los Angeles.
Comedian Kevin Nealon hosted the formal 30th Gala fundraiser, supported by Farm Sanctuary co-chairs, Tracey Stewart and Emily Deschanel. United against farm animal cruelty, guests sipped on luxury artisan cocktails from The Grand Bevy featuring stenciled art of celeb supporters on top, then enjoyed a 100% plant-based dinner, custom designed by Beverly Wilshire in partnership with Gardein Executive Chef Jason Stefanko.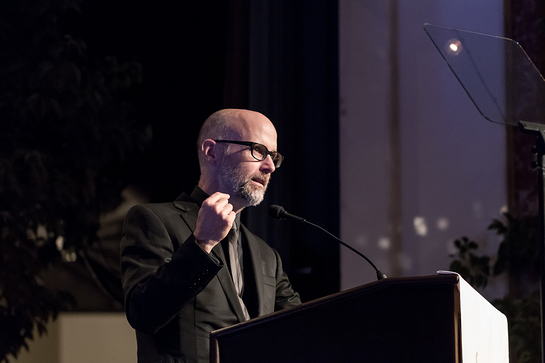 The heartfelt evening included musician, artist and entrepreneur, Kat Von D, accepting the Compassion In Action Award from long-time vegan and award-winning DJ, Moby. Then Farm Sanctuary c0-founder, Gene Baur, presented Chef Tal Ronen, the founder and chef of Crossroads Kitchen, with the Inspiration Award, as the innovator of exceptional Los Angeles' vegan cuisine.
MTV's first Latina VJ, now TV host, businesswoman and most importantly, animal activist, Daisy Fuentes, joined the stage to present the Friends, Not Food Award to award-winning singer and songwriter, Leona Lewis. As a strong and very vocal advocate, Leona has stood up for the rights of animals in numerous campaigns including refusing to perform in places that condone animal cruelty.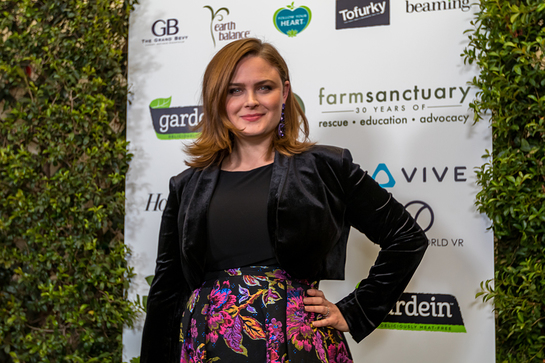 The presentation concluded with award-winning comedian and Farm Sanctuary supporter, Jon Stewart, presenting the final Gift of Life Award to, the President of the Allene & Jerome Lapides Foundation, which focuses on animal rights, animal protection, women's issues, and the environment. Allene Lapides, a longtime supporter of Farm Sanctuary, has been very devoted to the welfare of animals, and is making it possible for Farm Sanctuary to open a shelter and educational center in Santa Fe, NM. Jon & Tracey Stewart were last year's honoree of Farm Sanctuary's Gift of Life Award, and their acceptance marked the beginning of a journey that includes rescuing a bull named Frank, a horse named Lily and many other beautiful animals. Jon and Tracey Stewart will also be opening a location at their New Jersey farm in Fall 2017.
Celebrities in attendance included Natalie Portman, James Cromwell, Renee Olstead, Jeff Garlin, Craig Ferguson, Jennifer Coolidge, Kara Royster, Simone Reyes, Sloane Avery, Lesley Nichol, David Mazouz, Jonathan Slavin, and many more.
Guests enjoyed a surprise "Happy Birthday" performance by Leona Lewis and a nostalgic performance by pop icon and recent vegan, Richard Marx, singing "Right Here Waiting" and "Don't Mean Nothing". Paddles were raised during an exciting Fund-A-Farm Live Auction to raise money for Farm Sanctuary, and guests shopped a farmer's market style gift station to cut down on waste and take home the products they will use most. Gifts ranged from Kat Von D Beauty make-up, Love Goodly's eco-luxury lifestyle box curated by Emily Deschanel, 100% PURE beauty; to Live Beaming, NuCulture Cheese sampling, Wully Outerwear, and more.
Farm Sanctuary President and Co-Founder Gene Baur, who was recently selected by Oprah Winfrey to be a part of her SuperSoul 100 and who TIME magazine calls "the conscience of the food movement," is a native Angeleno, growing up in the Hollywood Hills. As a nod to his days traveling across the country selling veggie dogs at Grateful Dead concerts in the '80's, Baur's original VW Westphalia van was parked inside the Beverly Wilshire, serving vegan hot dogs at the after party which ran until Midnight.
Farm Sanctuary, with a 26 acre Los Angeles area shelter and sanctuaries in Orland, CA and Watkins Glen, NY, works to educate people nationwide about farm animal abuse and the adverse effects of factory farming on our health and environment.
"We're excited to gather fellow advocates and supporters under one roof to celebrate Farm Sanctuary's accomplishments over the past 30 years. We're using this special occasion to applaud how far we've come, but also to continue our mission of revealing the truth behind factory farming practices, saving animals from abusive conditions, and changing how society views and treats farm animals. With tireless advocates and co-chairs, Tracey Stewart and Emily Deschanel, we are thrilled to raise awareness and further advance our cause in Los Angeles, country-wide and beyond," said President and Co-Founder Gene Baur.