Charlize Theron, Naomi Campbell, Jackie Chan, Charli XCX, Mark Ronson, CL, and amfAR Chairman of the Board Kenneth Cole were among those who gathered at the third annual amfAR Gala Hong Kong at Shaw Studios to honor Pansy Ho for her commitment to the fight against AIDS.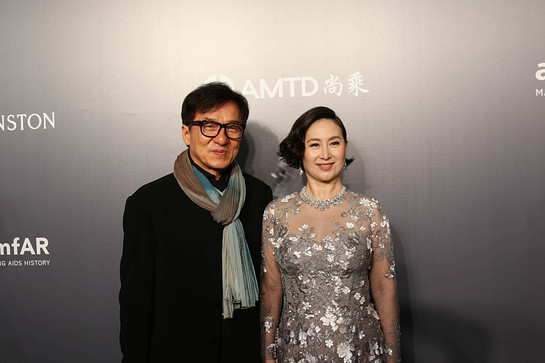 The event, presented by Harry Winston and AMTD Group, raised over $3.5 million for amfAR's life-saving AIDS research programs.
Other guests in attendance included Park Seo Joon, Ahn Jae-hyun, Rosamund Kwan, amfAR Global Fundraising Chairman Milutin Gatsby, Josie Ho, Budi Tek, Sir David Tang, Timmy Xu, Lorraine Schwartz, Gu Youming, Gaile Lok, Myolie Wu, Kimbee Chan, Michelle Cheng, Yvette Yung, Charles Ho, Kent Ho, Emily Lam Ho, Allan Zeman, Chairmaine Zeman, Fernando Botero, Marines Botero, Maisy Ho, Sabrina Ho, Chairmaine Ho, Claudine Ying, Winnie Chiu, Josephine Chiu, Harris Chan, Tina Leung, BryanBoy, Yi Zhou, Faye Tsui, Myolie Wu, Alex Lam, Lelia Chow, Tina Leung, Ricky Kwok, Calvin Choi, Zou Tao, Jean-Marc Lacave, Achille Boroli, and René Koneberg among others.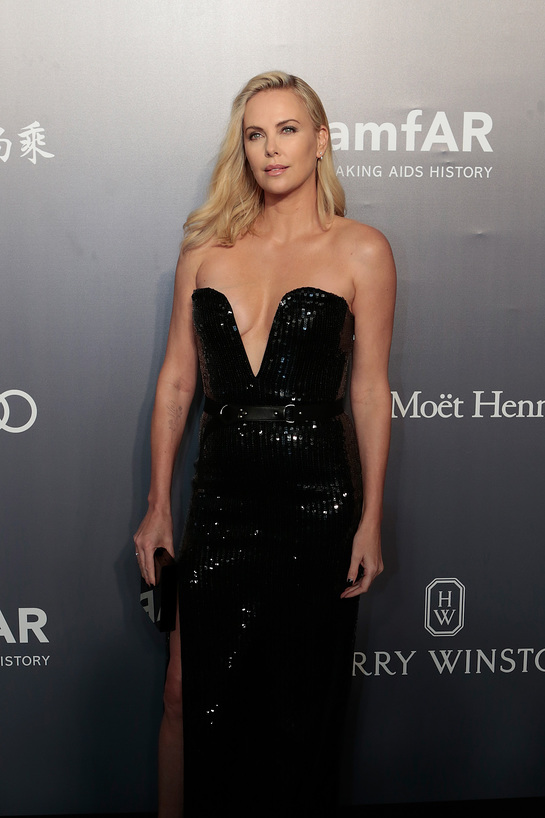 Naomi Campbell opened the evening by welcoming guests and introducing amfAR Chairman of the Board Kenneth Cole, who thanked event sponsors and spoke about amfAR's TREAT Asia program and the organization's Countdown to a Cure initiative, which is dedicated to finding the scientific basis of a cure for AIDS by 2020.
Cole then introduced Honorary Chair Charlize Theron, who stressed the challenges of HIV and urged focused efforts on "the communities that are most vulnerable, that are most in need of prevention, education, and support." She ended by thanking all guests, describing their attendance as "a symbol of generous support and commitment to bringing this epidemic to an end in our lifetime, to removing it as a threat to our children and to future generations."
Sir David Tang introduced the amfAR Award of Courage to his friend, businesswoman and philanthropist Pansy Ho, describing her commitment to giving back as "nothing short of admirable" and recognizing her efforts for the past three years in supporting the amfAR Gala Hong Kong. In her remarks, Ms. Ho dedicated her gratitude to all who have supported the amfAR Gala Hong Kong and invited everyone to keep working together towards finding a cure on behalf of the 37 million people around the world who are living with HIV/AIDS.
The evening also featured spectacular live performances. Grammy-nominated British pop sensation Charli XCX ended the evening with a set of her top hits Boom Clap, Fancy, and I Don't Care that brought the crowd to their feet.Five-time Grammy Award-winning musician Mark Ronson then kicked off the after-party with a DJ set that kept guests dancing until the morning.
K-Pop superstar CL (Lee Chae-rin) also took the stage during the program to perform her debut American singles, Lifted and Hello Bitches.
Guests enjoyed bidding on exclusive items during the live auction, conducted by Simon de Pury and Shally Lin. Highlights included:
· Jackie Chan surprised guests and auctioned an opportunity for one lucky guest to appear in his upcoming film with Sylvester Stallone and to attend the movie's premiere in Beijing. This once-in-a-lifetime role sold for the highest amount of the evening, $300,000.
· Charlize Theron offered an opportunity for two to attend the New York City premiere of The Fate of the Furious, the eighth film in the epic Fast and the Furious franchise, along with tickets to the VIP after-party following the screening and a suite at The Peninsula New York, which sold twice for a total of $200,000.
· An Andy Warhol print of amfAR Founding International Chairman Dame Elizabeth Taylor, titled Liz, 1964, sold for $130,000.
· A seven-night stay for twelve people at Leonardo DiCaprio's iconic Palm Springs home, originally built for beloved entertainer Dinah Shore and neighbored by homes to stars such as Frank Sinatra, Marilyn Monroe, Cary Grant, Dean Martin, Liberace, Elvis Presley, and amfAR's Founding International Chairman Elizabeth Taylor, sold for $100,000.
· Moët & Chandon offered, for the first time ever in Asia Pacific, the opportunity for a guest to purchase theirvery own Moët & Chandon vending machine, which holds 315 Moët & Chandon mini bottles and sold for $80,000.
· Herb Ritts' 1986 photograph of Madonna, which became the cover of her third studio album True Blue and was later named one of Billboard's 50 Greatest Album Covers of All Time, sold for $55,000 to Ms. Pansy Ho.
· Isla Flouo Mossi, a work by American artist Donna Huanca, and Under Heaven-3309CF0162, a work by Shanghai-based artist Xu Zhen, both sold for $130,000 each.
Charlize Theron served as the event's Honorary Chair. Naomi Campbell, amfAR Chairman of the Board Kenneth Cole, Michelle Rodriguez, Michelle Yeoh, Nayla Hayek, Daisy Ho, Vin Roberti, Budi Tek, Yvette Yung, and amfAR Global Fundraising Chairman Milutin Gatsby served as Event Chairs. Event Co-Chairs included Achille Boroli, Guy Bradley, Harris Chan, Angelica Cheung, Winnie Chiu, Calvin Choi, Josie Ho, Louise Hung, Miky Kambara, René Koneberg, Jean-Marc Lacave, Su Mang, Dee Poon, and Oscar Wang. Vice Chairs of the event included Frank Cancelloni, Zou Tao, and Teras Young.
Harry Winston and AMTD Group served as the event's Presenting Sponsors. Audi Hong Kong and Moët Hennessy were the Signature Sponsors. HANXI was the Associate Sponsor. The Upper House was the event's Hospitality Partner. Delta Air Lines is the Official Airline of amfAR. amfAR Gala Hong Kong was produced by Andrew Boose/AAB Productions and Josh Wood/Josh Wood Productions.
In 2001, amfAR launched TREAT Asia, a cooperative network of clinics, hospitals, and research institutions working together with civil society to ensure the safe and effective delivery of HIV/AIDS treatments across Asia and the Pacific. TREAT Asia now encompasses 20 adult and 16 pediatric clinical sites across the region.