On Sunday October 29th, nonprofit Safety Harbor Kids is having their 10th Annual Concert Fundraiser to support music education programs for orphans, foster and homeless children.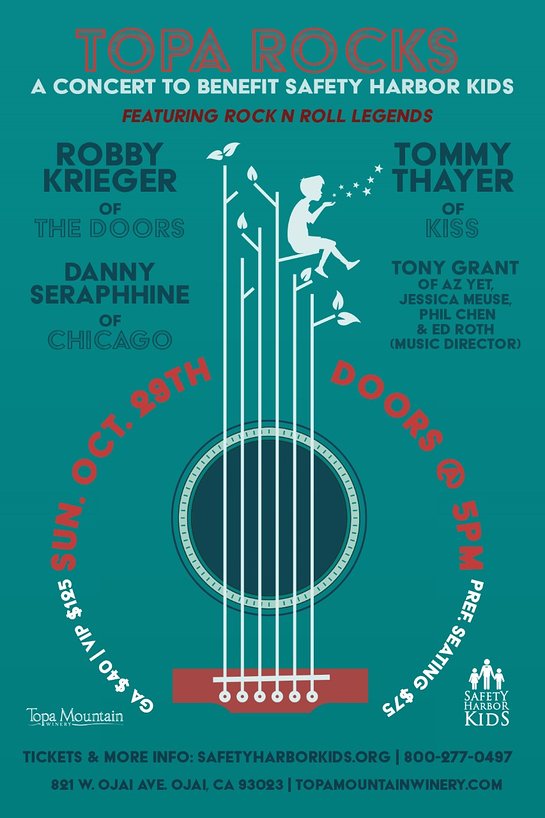 The event, hosted by Topa Mountain winery in Ojai, will include sets by The Robby Krieger Band, Rock 'N Roll Hall of Fame drummer Danny Seraphine (formerly of Chicago), KISS guitarist Tommy Thayer, singer Tony Grant of AZ Yet, bassist Phil Chen and SHK Music Director Edward Roth on keys.
Robby Krieger, guitarist and founding member of The Doors wrote hits including "Light My Fire", "Touch Me" and "Love Her Madly" among others. Danny Seraphine wrote or contributed to many of Chicago's hits including "Lowdown", "Street Player" and many others.
The venue, Topa Mountain Winery in Ojai, offers spacious grounds with panoramic views of the surrounding mountains. VIP guests will enjoy appetizers, dinner, glass of wine, drinks and an area upfront to view the show, donors will be invited to a private meet and greet dinner. Guests will also enjoy special entertainment by Maria Elena Infantino. Also performing will be Jennifer Meuse and a live Facebook broadcast by singer, Kirsten Collins.
Since 2007, SHK has partnered with such companies as Bentley Beverly Hills, Engel & Volkers, SoCal Edison, Southern California Life Magazine, Santa Monica Kiwanis, Hint Water, Garnett Security, Charles & Company Tea, Longshot Coffee, Ojai Community Bank and Wells Fargo among others to raise funds for the charities education programs. "The children we serve have nothing – no parents, no family, no transportation." Says SHK President, Petrie Alexandra Williams. "Without our help the girls will end up on the streets kidnapped, raped and trafficked. They need your help." She states emphatically.
Safety Harbor Kids supporters include Jackson Browne, Albert Lee, Peter Asher, Bonnie Raitt, Tom Petty, Paul Barrrere and Fred Tackett, Tony Braunagel, Inara George and many others in the music industry. Other supporters include Malcolm McDowell, Reese Witherspoon, Jeremy Piven, James Belushi, and Dee Wallace.
Find out more here.