An impressive 1.1 million dollars was raised at the annual Artists for Peace and Justice (APJ) Festival Gala, presented by BOVET 1822, held at the Art Gallery of Ontario (AGO).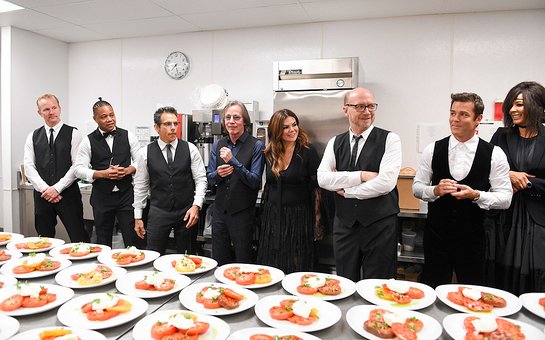 Co-chaired by Natasha Koifman and Suzanne Boyd, the event was co-hosted by an influential team, including APJ Founder, Paul Haggis, Cuba Gooding Jr., Ben Stiller, Shantelle and Yannick Bisson, George Stroumboulopoulos and Audrey Raffy, daughter of BOVET 1822 owner Pascal Raffy. The event kicked off with a surprise for guests in attendance, when APJ CEO David Belle and Haggis called on notable attendees to join them in the spirit of social justice and activism to help serve the meal. All the co-hosts jumped up from their seats and proceeded to serve the guests.
Later that evening, Haggis and Belle with Bovet 1822's Audrey Raffy presented Rock and Roll Hall of Famer Jackson Browne with the 2017 Peace and Justice Activism Award, previously awarded to Sean Penn and Susan Sarandon. This award celebrated Browne's lifetime of activism and commitment to peace and social justice both in Haiti and around the world.
A live auction throughout the evening, led by auctioneer Stephen Ranger, helped to sell one-of-a-kind experiences that went for impressive amounts in support of the cause, including:
• A private atelier tour and tea with Zac Posen and Susan Sarandon;
• The ultimate VIP concert experience with Sir Paul McCartney – from a pre-concert soundcheck to a backstage meet-and-greet, this auction item, included having Paul Haggis and Ben Stiller as dates
• Cuba Gooding Jr. inspired guests to "Show Him the Money!" with a set-visit on his next project being auctioned. He also serenaded the audience with an endearing rendition of "Oh Canada".
• A Peruvian adventure…with a supermodel: one lucky bidder won on a chance to visit one of Earth's paradises, the Rainbow Mountain, alongside adventurer Johan Ernst Nilson and Petra Nemcova
Guests in attendance were treated to musical performances by Slaight Music artist Kayla Diamond, winner of the label's It's Your Shot contest as well as Haitian musician and longtime friend of APJ Paul Beaubrun. Before the night closed, Jackson Browne joined Beaubrun on stage.
Immediately following the 2010 earthquake, APJ funded the purchase of land and construction to build Haiti's largest high school, the Academy for Peace and Justice, which serves the poorest and most deserving youth in Port-au-Prince. The Academy reached 2800 students at full capacity in 2016 and celebrated its first graduating class, giving some of Haiti's most underprivileged children the opportunity to continue their education beyond the sixth grade.
"Launched during TIFF in 2009, our APJ Festival Gala in Toronto continues to be our hallmark event of the year, and has allowed us the honour of serving the Haitian community by bringing education, healthcare and hope to the children of Haiti," said Paul Haggis, Founder, APJ. "In nine years, in large thanks to our sponsors, APJ family and the incredible Toronto community, we've made an extraordinary impact, empowering young people and supporting the next generation of Haitian leaders. However, there is much more to be done – and we hope that celebrating and recognizing outstanding entrepreneurs who embody our own fierce commitment to social justice will inspire the activism and service required to ensure a brighter future for some of the neediest on the planet."
In addition to the generous donations made by event attendees, organizations came together to give back. These included: BOVET 1822, AUDI, Stella Artois, and NKPR.