The 2017 Ed Asner and Friend Poker Tournament for the Autism Society was sold out and a huge success raising in excess of $140,000 in much needed funds for The Autism Society, it was announced by Director of Corporate Development Matt Asner.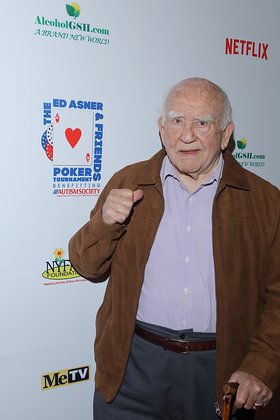 Emmy-winning actor and autism advocate Ed Asner (The Mary Tyler Moore Show, Lou Grant, "Up"), who has a son and grandson on the autism spectrum, hosted the event and was joined by Emmy-winning actress Rosie O'Donnell (The View), Thomas Gibson (Criminal Minds), Lou Diamond Phillips (Longmire), Patricia Heaton (The Middle), Drake Bell (Drake & Josh) and among many others. The poker tournament took place on Saturday, September 9, 2017 at the Haworth Los Angeles Showroom in DTLA.
Other celebrity friends who played a hand and supported the cause included Michael McKean, Ed Begley Jr., Elizabeth J. Carlisle, Matthew Modine, Randy Rainbow, Roger Cross, Andy Dick, Massi Furlan, Metta World Peace, Sebastian Bach, Ivy Teves, Evan Handler, Jay Flats, Daryl Hannah, Jenny Gabrielle, Gregory Harrison, Judd Lormand, Randi Oakes, Mark Thompson, Randall Batinkoff and many others. For more information, go to www.pokerwithed.com.
"We thank Ed Asner for his amazing commitment to our organization," said Joe Joyce, chairman, Autism Society of America and Executive Vice President of Keystone Insurers Group. "To all who supported this event, money raised will be used to advance the daily quality of life of individuals and families impacted by autism throughout America."
In addition to the Celebrity Poker Tournament, guests enjoyed a dinner buffet, cocktails, portraits by Scott Nathan Portraits, a Nespresso Coffee Bar, wine provided by Wine Pull, massages by Patricia Henry and an opportunity to raise money for Autism Society of America. There was both a silent and live auction held during the festivities. Bidders had the opportunity to win VIP concert tickets, vacations, jewelry, gourmet catering experiences, specialty wine tasting packages, Laker tickets, an evening of magic, among others.
The top three tournament winners were awarded various prizes. Top prize was awarded to 1ST place winner Jonathan Frank, who received a champion trophy and two flights on Southwest Airlines and accommodations at PlumpJack's Ingleside Inn in Palm Springs. Second place winner was William Parker, who received a trophy and an Apple iPad. In third place was Sam Chauhan, who received a trophy and an Amazon Echo.
The funds raised at the poker tournament will support The Autism Society's mission to maximize the quality of life in measurable terms of all impacted by autism. The Autism Society of America also acts as an advocate for appropriate services for individuals impacted by autism across the lifespan, and has a national contact center (1-800-3-Autism) where trained professionals are available to assist and answer calls for help. Funds earned will also be used to seek greater public policies that don't cause an adult with autism to have to wait up to eight years for needed services. Autism currently affects 1 out of every 68 individuals and their families.
The Autism Society of America sponsors for the 2017 Ed Asner & Friends Poker Tournament include FOUR OF A KIND SPONSORS: NYFAC Foundation, Extraordinary Ventures; DEALER SPONSORS: Jim Ball Autism Consulting, Netflix, Newmark Knight Frank, Plush Beds, Suzanne Wright Foundation, The Cary Family; COMMUNITY SPONSORS: Ability Productions, MeTV, Environetics, Samini Law