Queen guitarist and animal advocate Brian May CBE joined the UK's leading animal-protection groups at 10 Downing Street this week to hand in a petition with 425,834 signatures urging Prime Minister Theresa May to introduce a UK animal-fur import ban.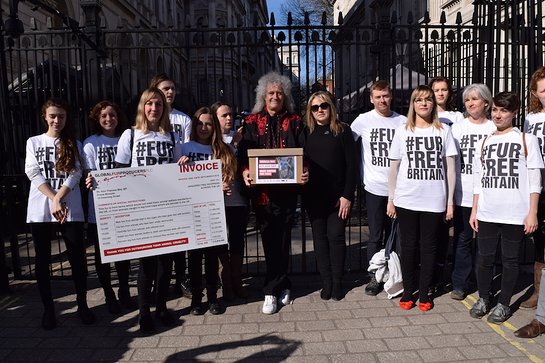 The campaigners wore T-shirts that read, "#FurFreeBritain", and two sported 2 foot papier mâché fox and rabbit heads, which were made by Paperhand Puppet Intervention.
Fur farming was banned in the UK in 2000, but since then, Britain has imported animal fur worth more than £650 million from countries such as China and Poland, where animals are typically bred in appalling conditions on fur farms.
The petition signatures were collected as part of the Fur Free Britain campaign by the UK animal charities Humane Society International UK, People for the Ethical Treatment of Animals (PETA), Four Paws, Animal Aid, Brian May's Save Me Trust, Viva!, The Jane Goodall Institute UK, and Open Cages as well as social network Care2.
More than a quarter of the signatures were gathered for a UK Government and Parliament petition initiated by citizen campaigners Diane Bartlett and Catherine Reda, which met its goal of 100,000 signees last week triggering a parliamentary debate on the UK fur trade, which will occur in June.
The hand-in comes hot on the heels of San Francisco becoming the first major U.S. city to go fur-free and major brands and retailers like Gucci, Versace, Michael Kors, DKNY, Donna Karan and Yoox Net-a-Porter shunning fur.
"Hundreds of thousands of British people have supported our call for a Fur Free Britain, so we hope Mrs May will take decisive action to address the current double standard on fur cruelty," says a Fur Free Britain campaign spokesperson. "Britain made its stance on fur clear almost two decades ago by banning fur farming because it's unethical, so it makes no sense to still be importing hundreds of millions of pounds of fur from animals who have endured horrific cruelty in other countries. It's time the UK pulled the plug on the fur trade."
Brian May said, "In the light of the now proven appalling cruelty to animals in the production of fur, it's time to make a stand. Fur that did not grow on us has no place in a decent society."
More than 100 million animals suffer each year for the global fur trade, most of them reared in terrible conditions on fur farms. Naturally free-roaming species such as raccoon dogs, minks, and foxes are subjected to physical and psychological torment in small, barren cages for their entire lives before being killed by gassing or electrocution and skinned. Wild animals trapped for their fur, such as coyotes, fare little better – they can languish in agony in cruel traps for hours or even days before dying from dehydration, starvation, or attacks by predators or being killed when the trapper returns.
The Fur Free Britain campaign is calling on the government to use Brexit as an opportunity to make the UK a fur-free zone. Although the UK has outlawed fur farming and EU regulations ban imports of fur from cats and dogs and from commercial seal hunts, Britain still imports and sells the fur of a variety of other species, including foxes, rabbits, minks, coyotes, raccoon dogs, and chinchillas. Campaigners want the existing import bans extended to protect all species, and opinion polls show that most Brits agree – 80 per cent believe that it's unacceptable to buy or sell animal fur in the UK, regardless of species.
The Fur Free Britain campaign has garnered support from a number of prominent figures. Earlier this month, 31 of the country's biggest celebrities – including Dame Judi Dench and Ricky Gervais – sent a letter sent to the Prime Minister calling for a fur import ban.
The campaign is already gaining traction in Westminster. This month, the Environment, Food and Rural Affairs Committee is conducting an enquiry into the UK fur trade, and a growing number of MPs of all political colours – including Conservatives Zac Goldsmith and Sir Roger Gale, Labour's Kerry McCarthy, and Green Party co-leader Caroline Lucas – have declared their support for a ban.