Kids Wish Network recently helped a young boy meet his heroes at the premiere of Marvel's Avengers: Infinity War.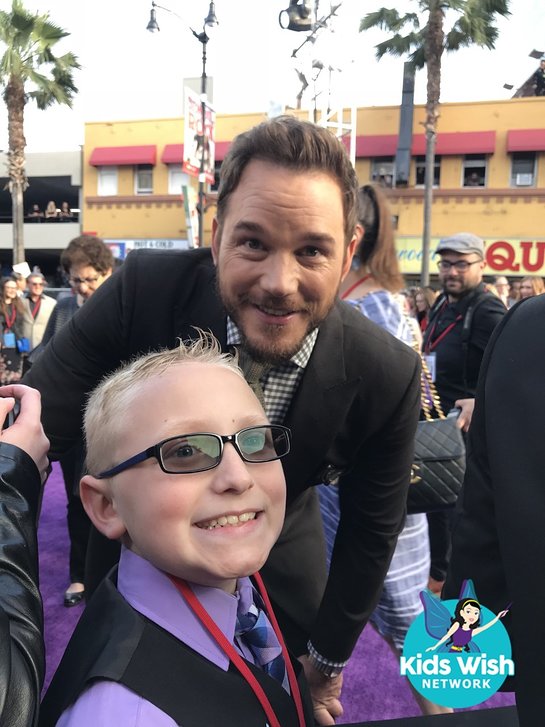 Zack's seizure-like staring spells in school led to testing and a diagnosis of Chiari malformation, a condition that causes the cerebellum to push into the space occupied by the spinal cord. He's undergone surgery, and is not able to enjoy a carefree childhood of running, jumping and playing sports like most other kids. Zack is very sweet, caring and big-hearted – he enjoys helping others and makes everyone around him feel loved. Kids Wish Network, a children's charity that grants wishes for kids with life threatening illnesses, wanted Zack to feel just as special. After finding out about his love for superheroes, Kids Wish Network created an epic wish for Zack that would be super "Marvel"ous!
Leading up to Zack's big wish, his mom Kellie and Kids Wish Network arranged a superhero party surrounding Zack with family and friends to reveal and celebrate his exciting news. For his wish, he'd be on the red (purple) carpet of Marvel's Avengers: Infinity War world premiere! Zack and his family would also receive the full movie magic experience visiting Universal Studios Hollywood.
Kids Wish Network flew Zack and his family from Texas to Los Angeles. On his big day, First Class Limousine chauffeured Zack and his mom to the Avengers: Infinity War premiere. Zack was face to face and spoke with many of the film's directors and star-studded cast as they walked the purple carpet. He also got autographs from many of his favorite actors and "selfies" capturing once-in-a-lifetime moments. Afterward, Zack and his mom navigated the Hollywood Walk of Fame following the stars to the stars who also attended the film's world premiere screening. "I had an awesome time seeing all the stars," said Zack. "And the movie was great!"
With so many of the blockbuster's stars in attendance, he was able to see actors Chris Pratt, Scarlett Johansson, Gwyneth Paltrow, Chris Hemsworth, Bradley Cooper, Mark Ruffalo, Benedict Cumberbatch, Vin Diesel, Zoe Saldana, Evangeline Lilly, Clark Gregg, Paul Bettany, Dave Bautista, Letita Wright, Paul Rudd, Don Cheadle, Karen Gillan, Tom Hiddelston, Elizabeth Olsen, Chadwick Boseman, Tom Holland, Benedict Wong, Samuel L. Jackson and director Joe Russo.
"He had the best time of his life," said his mom. "He was also so happy to go on a trip and not have to see doctors. Thank you for everything." Other family members back home also saw the happiness the wish created for Zack. "It put a big smile on his face that I haven't seen in a long time," said his grandma Rebecca."
During the wish, Zack's family was also indulged in upscale accommodations at the London West Hollywood at Beverly Hills where he also met resident bulldogs Winston & Churchill, and Hotel Indigo Houston at the Galleria. Memorable dining experiences were enjoyed at Bubba Gump Shrimp Co., WeHo Bistro, Samba Brazilian Steakhouse and Del Frisco's Double Eagle Steak House.
"Wish Kid Zack has been through so much, and his positive outlook greatly inspires others," said Kids Wish Network Executive Director Tam Lai. "We're so thrilled that we could give him a wish of such magnitude with all of his favorite superheroes. It was very heartwarming for me when Zack's mom said, 'look at him, he can't stop smiling.' When he has tough days, he'll always have memories and photos of this once-in-a-lifetime experience to bring him a dose of happiness."