City of Hope raised more than six million dollars at a black-tie gala honoring Warner/Chappell Music Chairman and CEO Jon Platt.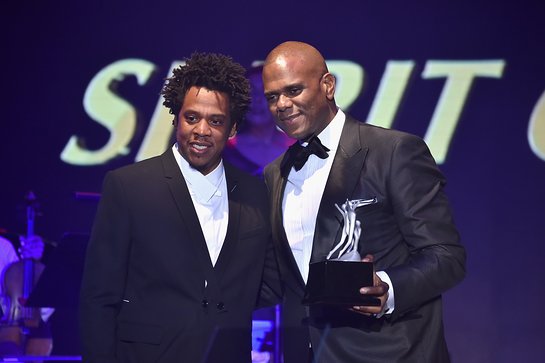 The funds will go toward the nonprofit's research and treatment of cancer, diabetes and other life-threatening diseases. Held at Santa Monica's Barker Hangar, the annual event was hosted by Pharrell Williams and featured a performance by Beyonce, with Jay-Z presenting Platt with the prestigious Spirit of Life award.
JAY-Z praised Platt's many accomplishments and commitment to his craft, calling him an "incredible, passionate person" and "the Obama of the music industry." Adding, "I can't think of anyone more deserving to be prized in front of their peers, in front of the world, than my brother, Jon Platt."
In his acceptance speech, Platt commended City of Hope's important work: "At a time in our country when so much is broken, I think it's important that we focus on those who are doing great in the world. People who devote their lives to fixing what ails us, to the people that are saving lives. And over the last few months I've had the privilege to meet with the people of City of Hope, the people that give City of Hope its name."
Though initially hesitant about taking the spotlight, Platt emphasized how seriously he takes this honor – especially as an opportunity to shine a light on others: "As an African American CEO, I proudly embrace the responsibility to lend a helping hand to people of color who are coming up in this industry, as well as to represent my friends and my colleagues that are already doing good in this game."
He thanked numerous people who he credited for getting him to where he is and helping him along the way, including the songwriters themselves: "I'd like to thank songwriters… songwriters who represent diversity in all its forms, as you continue to prove every day, that genius does not discriminate."
The star-studded celebration, which kicked off with performances by Mary Mary and Trombone Shorty & Orleans Avenue, culminated with the nonprofit's first-ever after-party, deejayed by Jermaine Dupri.
Luminaries like Dr. Dre, Derek Fisher, Tiffany Haddish, Quincy Jones, Wiz Khalifa, Rita Ora, Bebe Rexha, Kelly Rowland, Timbaland, Justin Tranter, and Usher were in attendance.