X Factor favourites Alexandra Burke, Jedward, Olly Murs, Stacy Solomon and super stylish judge Dannii Minogue have given clothes to a charity auction which will benefit Alder Hey Imagine Appeal.
The X Factor outfits will be auctioned at the Clothes Throw event at The Racquet Club, Liverpool, this October. The Clothes Throw will be hosted by British designers Kirsty Doyle and Benna Harry who will give style talks on each of the items whilst they are modelled on the catwalk for guests to bid on.
X Factor winner Alexandra Burke has given a black Ed Hardy by Christian Audigier dress and judge Dannii Minogue has given a multi-coloured Orion dress which she wore on Gok's Fashion Fix. This years X Factor is due to start on Saturday and last year's X Factor finalists have all signed an Imagine Appeal t-shirt for the auction.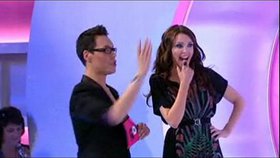 "I'm giving a dress from my own wardrobe for the Clothes Throw auction," said Alexandra Burke. "It sounds like a fabulous event and hope I everyone has a really good time and it raises lots of money for the Imagine Appeal."
The charity is also seeking designer clothes donations from anyone who has a piece in their wardrobe they no longer wear for the pop-up shop. Famous Liverpool boutique Cricket is donating and Kirsty Doyle has donated a designer experience day where the winner can choose something from her collection at her exclusive boutique store in Liverpool ONE.
"I am really looking forward to co-hosting the Clothes Throw and it's exciting seeing all the celebrity donations coming in," said British fashion designer Kirsty Doyle, who is a Patron of the Imagine Appeal. "The public can donate to the Clothes Throw and I think anyone who's visited Alder Hey will know what a fantastic job they do and when you see their little patients who are so brave it makes you want to do something to help. It's a very effective way for the Imagine Appeal to fundraise because they're not asking for money they're asking for something you no longer wear that's probably at the back of your wardrobe!"
Other celebs who have donated clothes include Sienna Miller, Judi Dench, Twiggy, Shirley Bassey and many more.
Alder Hey, Europe's busiest children's hospital, provides family-focused care for around 250,000 young patients every year and is responsible for the health of more children than any other hospital in the UK. The Alder Hey Imagine Appeal was launched in October 2005 with the support of Yoko Ono, who is Honorary Patron of the charity. It aims to support the pioneering work of the hospital by funding research, improving the environment and providing facilities for patients and their families and buying the very latest medical equipment.
To donate clothes or to attend the exclusive Clothes Throw lunch on Friday 8th October please contact Imagine Appeal on 0151 252 5716