By Jennifer Butler on
A diverse flock of models, musicians, soap stars and socialites joined forces in support of A Night of Fashion for a Cause to benefit STOMP Out Bullying in NYC.
The blue carpet outside Chelsea hotspot The Ainsworth was populated with many familiar faces on Tuesday night as a variety of celebrities – from supermodels to boy band icons – took a stand against teen bullying in support of Love Our Children USA and its signature program, STOMP Out Bullying.
"The number of tragic suicides as a result of bullying and cyber-bullying is heartbreaking," Ross Ellis, Founder and Chief Executive Officer of STOMP Out Bullying, said in the organization's press release. "These tragedies are a wake-up call to parents and our schools to educate our youth about kindness and respect and to teach them both values and morals online and in person."
The event's host committee included supermodel and actress Selita Ebanks, supermodel Hana Nitsche, Sports Illustrated's 2010 cover model and actress Brooklyn Decker, Estée Lauder spokesmodels Liu Wen and Constance Jablonski, former *NSYNCer turned actor and producer Lance Bass, and actor Wilmer Valderrama. Also on hand to support the cause were socialite and reality star Tinsley Mortimer, model Shannon Rusbuldt, numerous soap opera stars, and singer-songwriter Tamar Kaprelian, who treated guests to a set of live music.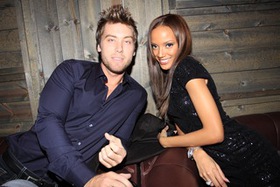 "Bullying has been going on forever, but it has reached a boiling point," said Lance Bass in an interview with LookToTheStars.org. "I am lending my voice to this cause as an adult, to tell kids that it always gets better."
Many of the celebrities in attendance had very personal connections to the cause. "As a young person, being small growing up in the Caribbean is not a good thing. So I was teased," confessed supermodel Selita Ebanks. "I was called many names and I fought many battles. It takes a long time to learn that everyone is unique, and you have to embrace who you are."
In light of the recent increase in bullying-related teen suicides, the urgency of the cause was clear to everyone in attendance. Tinsley Mortimer told Look to the Stars, "I am actually new to this charity. I think it's a really great cause, especially now with cyber-bullying. A lot of kids probably just don't realize how impactful their words are. Words can be really, really damaging. I think it's important to bring awareness to this."
Inside The Ainsworth, guests were treated to custom cocktails and gourmet snacks and desserts. At 10:00pm, the Victoria's Secret Fashion Show was aired on numerous high definition plasma screens. Kaprelian's live performance wowed the crowd, who then danced the night away to the sounds of DJ Jus-Ske and DJ Price.
Kaprelian commented to Look to the Stars, "I love lending my voice to a wonderful charity like this. Children are a passion of mine so it's nice to be able to lend my talent. We all go through negative situations and you have to see the positive. You become a stronger person by going through things that are a little difficult."
The Hollywood Agency partnered with Love Our Children USA to stage the event, which was sponsored by the HOME Foundation and supported by The Ainsworth and Paige Management Group. The benefit was successful in raising funds and awareness to bolster the efforts of STOMP Out Bullying to educate children, parents and schools and to offer bullying victims a safe haven.
Indeed, this cause seemed to resonate with everyone in attendance. Model Shannon Rusbuldt, who is also a supporter of MS charities, told Look to the Stars, "I've been one of the kids who has experienced bullying growing up, and it can really take a toll on your self-esteem. It's even worse now with the Internet, which creates even more of a need for awareness. So I'm hoping that this raises awareness and hopefully helps the kids who are struggling with it now."
PHOTOS: Johnny Nunez/Wireimage