On February 11, 2011, the U.S. Fund for UNICEF honored two individuals – Frida Giannini, Gucci Creative Director, and Carrie Auer, UNICEF Representative in Malawi – who have made key contributions to UNICEF's mission to save and improve children's lives worldwide.
The awards were bestowed at the inaugural Women of Compassion Luncheon at the home of Colleen & Bradley Bell. Actress, recording artist and UNICEF advocate Jennifer Lopez presented Giannini with this special award.
Also in attendance at the celebrity charity event were Mary J. Blige (Honorary Chair), Camilla Belle, Paz Vega and Marc Anthony.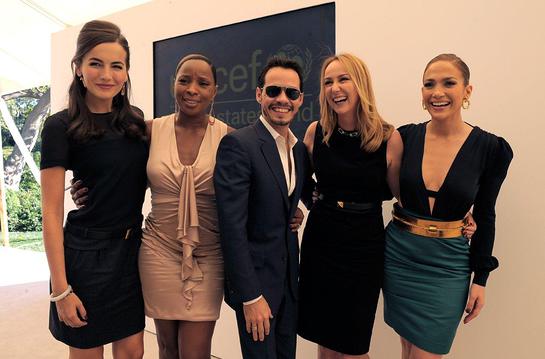 L to R: Camilla Belle, Mary J Blige, Marc Anthony, Frida Giannini, Jennifer Lopez
Honorary chairs also included Madonna and Rihanna.
UNICEF is the pre-eminent organization serving girls and women around the world. UNICEF knows that women and girls – as mothers and often family leaders – are the best advocates for children, whether those children are their own, in the neighboring village or on the other side of the world. Today women are emerging as leading philanthropists supporting UNICEF's work at an exponential rate. Because of their dedication, the U.S. Fund for UNICEF has created the Women of Compassion Award to celebrate these women and their accomplishments toward improving lives. All proceeds from the UNICEF Women of Compassion luncheon will benefit the U.S. Fund for UNICEF.
PHOTO: Charley Gallay, WireImage