By Delinda Lombardo on
Actor Josh Duhamel and national treasure Betty White were honored by the American Red Cross on Saturday, April 9, at the Fairmont Miramar Hotel & Bungalows in Santa Monica, for their humanitarian efforts and activities, and Look To The Stars' Special Correspondent Delinda Lombardo was on the guest list.
Sponsored by Artesa Wines, the Red Tie Gala not only showcased the hard work of Red Cross volunteers and employees, but was complete with models wearing authentic Red Cross uniforms dating back to WWII, reminding us that the Red Cross has always been there.
Duhamel, with a stunning Fergie at his side, received 'The Red Cross Spirit Award' while Betty White was the recipient of the coveted American Red Cross 'Crystal Cross Award' for her outstanding contributions to animal welfare, and celebrity chef Nick Stellino prepared a gourmet dinner created especially for the event and went home with the 'Most Humanitarian Chef' award.
In addition to White and Duhamel, celebrities in attendance included Paris Hilton, co-founder and chairman of (PRODUCT) RED Bobby Shriver, Camp Rock's Anna Maria Perez De Tagle, Fall Out Boy Pete Wentz, and many others.
Vince Berry of Artesa Vineyards and Winery spoke to us about how he came to sponsor this event: "Artesa Vineyards has just started a three year partnership with celebrity Chef Nick Stellino, and through this partnership we came to sponsor the event. We are thrilled to have a great forum to kick off our relationship as well as sponsor the benefit tonight…. the Red Cross is a fantastic organization and institution, their work speaks for itself. And when you have this kind of star power [Josh Duhamel, Betty White] associated with your organization, not just in terms of names, but in terms of people who actually really do something for the organization, that speaks volumes."
Perhaps the most touching part of the evening is when Duhamel received his award. With an adoring Fergie looking on, Duhamel's acceptance speech was riddled with modesty, sincerity and genuine disbelief that he has the ability to help others.
"I'm not sure I really deserve this," he said from the podium, "I've had a tremendous time this last couple years working with the Red Cross but I personally felt like I hadn't done enough. I'd done a few events with the Red Cross and showed up at a few events, but I felt like I hadn't done anything. So when everything happened in Haiti I think that I, like a lot of people, wanted to actually really contribute and get my hands dirty a little bit, so I called Marsha at the Red Cross. I said 'listen, I feel like I wanna do something, what can we do? I have an idea about involving youth and getting them to do something, give them a voice in this' – so they helped me organize this beach run in Santa Monica and sure enough, we got about 2,500 kids out there and raised over $100,000!
"So when this quake happened in Japan, I was thinking the same thing. I called Marsha again and the [Red Cross] Santa Monica chapter jumped right in. And I got to tell you, this chapter has been a tremendous group of people that have come together, which I think is indicative of the Red Cross in general. But for a guy like myself – who, to be honest, is scared to step forward and lead something like this – it really gave me an opportunity to rally kids and I thank them for that. And I got to tell you, my wife [Fergie] she's beautiful and she's talented but she is also the most compassionate person you'd ever want to meet."
Betty White, upon taking the podium, received a well deserved standing ovation before and after accepting her award:
"I mean really, you've had such an overdose of this old broad… I cannot say what a privilege tonight is," she said. "Growing up… when anything went wrong, the Red Cross was always there. To be honored by this magnificent organization is more than I can say. I've been in the animal business all my life, they are my best friends, and in the animal business we've come a long way. The Red Cross has come to realize what kind of influence these little creatures have on our lives. Early on, when a disaster happened, you would hear about people – but from Katrina on, you would also realize [there were] people who were trying to save their pets, or pets that were abandoned. Well, can you imagine how thrilled all of us animal lovers are to hear that the Red Cross has realized this too and have included animals in your programs! I just can't tell you what it means to me and what it means to each individual who's in terrible trouble from a disaster, to have you on their side understanding what you feel. I thank you on behalf of all my four-legged friends – some of them are three-legged even! It means so much to all of us who have animals to have your help, your assistance, your appreciation and your understanding, thank you from the bottom of my heart."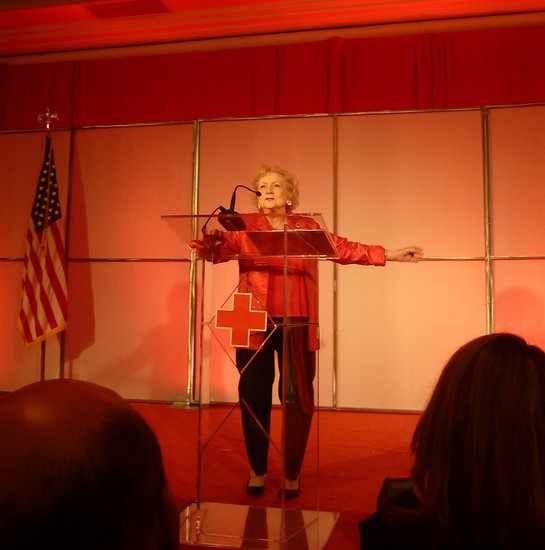 Earlier in the evening, White was honored with another award from the Actors and Others for Animals event.
Look to the Stars would graciously like to thank Artesa Vineyard and Winery for their generous sponsorship and invitation to the event. Many thanks as well to the American Red Cross, its employees, volunteers and everyone involved with providing the care and compassion the Red Cross is known for.