Admiral Mike Mullen will wrap up his four-year appointment as Chairman of the Joint Chiefs of Staff by leading a star-studded, eclectic group of celebrities on his final USO entertainment tour overseas this summer.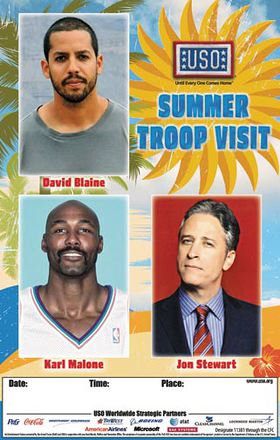 Admiral Mullen will be joined by "The Daily Show" host Jon Stewart, Hall of Fame forward Karl Malone and illusionist David Blaine as they entertain deployed servicemen and women on a three-country, six-day tour. (Locations and dates of the tour stops remain unannounced for security reasons.)
Admiral Mullen has led nine USO tours to 13 different countries, lifting the spirits of more than 74,300 service men and women since his appointment in 2007. He has also enlisted the support of 38 USO tour veterans, including such luminaries like Robin Williams, Kid Rock, Lewis Black, Lance Armstrong, NFL Commissioner Roger Goodell, Drew Brees, Bradley Cooper, Anna Kournikova and David Robinson. He has visited countries like Spain, Italy, Egypt, Afghanistan, Iraq, Bahrain, Germany, Ireland, Oman, Kosovo, the United Kingdom, Qatar and Kyrgyzstan.
The Chairman's Tour, celebrating its tenth anniversary, features political satirist/writer and stand-up comedian Stewart, who has been making audiences laugh since he first arrived in New York in 1986. The host of Comedy Central's hit show "The Daily Show," he is also the co-author of "America (The Book): A Citizen's Guide to Democracy Inaction)" and "Earth (The Book): A Visitor's Guide to the Human Race."
Nicknamed the "The Mailman" throughout his collegiate years at Louisiana Tech, Malone played his entire, 18-season career with the Utah Jazz. Considered one of the greatest power forwards ever, he scored the second most points in league history, played on the original "Dream Team" in 1992 with Larry Bird, Magic Johnson and Michael Jordan and retired in March 2006. In 2010, Malone was inducted into the NBA Hall of Fame.
David Blaine is best known for his high-profile feats of endurance and street magic and is known by The New York Times as "a modern day Houdini." Having dazzled audiences with such daring tricks as being buried alive and being entombed in a block of ice, he has traveled the globe performing magic for such notable names as Bill Clinton, Bill Gates and Harry Kissinger.