Beaulieu Vineyard, the great American winery at the heart of the Napa Valley with 111 years of history in fine winemaking, and the Official Wine Sponsor of the Academy of Television Arts & Sciences, has bottled up a very special way to benefit the Television Academy Foundation's education programs.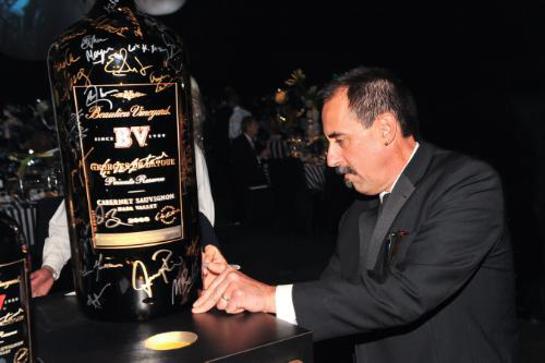 BV created a custom-etched and painted, 27-liter bottle of the winery's flagship Georges de Latour Private Reserve Cabernet Sauvignon. The 27 liter is the largest bottle produced for the wine industry, holds the equivalent of 36 bottles of wine, stands 3.5 feet high and weighs over 110 pounds when full.
Serving as an unofficial "guest book" for the 63rd Primetime Emmy nominees and presenters, 68 stars and industry luminaries signed the bottle and converted this exceptional collector's item into something truly one of a kind.
The autographs in gold and silver ink include Emmy winners Julie Bowen (Supporting Actress in a Comedy Series, Modern Family); Melissa McCarthy (Lead Actress in a Comedy Series, Mike & Molly); Ty Burrell (Supporting Actor in a Comedy Series, Modern Family); Guy Pearce (Outstanding Actor in a Mini-Series, Mildred Pierce); Loretta Devine (Guest Actress in a Drama Series, Grey's Anatomy); Margo Martindale (Supporting Actress in a Drama Series, Justified); as well as Gwyneth Paltrow, Drew Barrymore, Ashton Kutcher, Jon Cryer, Charlie Sheen, Matt LeBlanc, Eric Stonestreet, Jesse Tyler Ferguson, James Woods, John Slattery, Melissa Leo, William H. Macy, Rob Lowe, Anna Pacquin, Lea Michele, Amy Poehler, Clare Danes, Hugh Laurie, Don Cheadle, David Spade, Emmy Producer Mark Burnett, the cast of Entourage: Jeremy Piven, Adrien Grenier, Kevin Connolly, Kevin Dillon, Jerry Ferrara, Scott Caan and many more!
The majestic, signed bottle and a complementary Napa Valley wine-tasting getaway and deluxe accommodations at Meadowood Napa Valley resort in St. Helena, CA, is being auctioned online to benefit the educational programs of the Academy of Television Arts & Sciences Foundation, a 501©(3) non-profit organization dedicated to preserving and celebrating the medium of television, and educating those who will impact its future.
"BV has enjoyed a wonderful collaborative sponsor/partner relationship with the The Academy of Television Arts & Sciences and its Foundation for the last seven years," said Jeffrey Stambor, Director of Winemaking for Beaulieu Vineyard. "We felt that a truly exceptional auction lot that featured a great vintage of 'George', our flagship wine, would be a great way to help more students take advantage of the Foundation's amazing education programs."
"We're delighted that BV has put together this magnificent package that will ultimately benefit our programs," said Norma Provencio Pichardo, Executive Director of the Television Academy Foundation. "Plus, we're thankful to television's biggest stars who will be autographing the bottle for a good cause."
For auction information, visit CharityBuzz.com or EmmyFoundation and bid online from September 21 through October 5, 2011.