Operation Smile and Tony Hawk will launch a new video on January 10 sharing the story of how a smile can change forever.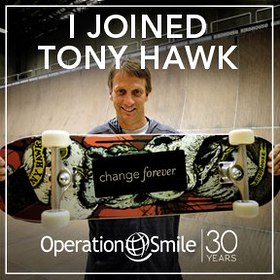 The Change Forever campaign is designed to make a lasting impact for children born with clefts each and every day, who are often unable to speak or eat properly and are shunned and ostracized from their community. Every child – no matter where they are born – deserves access to safe surgical care.
The Change Forever campaign marks 30 years of Operation Smile, and will feature an online and social media campaign featuring world-renowned athlete Tony Hawk, which encourages individuals to take a pledge, share their smile, and help create greater awareness of the issue of clefting and the impact a smile can have in changing forever the life of a child.
The campaign will also feature transformational stories and 30 years of global insights by the people who have been touched by Operation Smile, including the organization's celebrity Smile Ambassadors such as Roma Downey, Jessica Simpson, Brooke Burke-Charvet, Zachary Levi, Giuliana Rancic, Donald Trump, Jr., Billy Bush and so many others.
"A smile is truly a platform to change everything," said Bill Kliewer, CEO of Operation Smile. "We've treated children in some of the world's hardest to reach places and given them new lives. Over the last 30 years, we've made incredible progress training doctors to provide safe surgery and quality care in the developing world, and building medical capacity in our partner countries. However, we must redouble our efforts. There are too many preventable deaths for children with clefts, and there are too many children dying because they have no access to safe surgery."
With the help of medical volunteers from over 80 countries and generous supporters who share a vision to save children's lives, Operation Smile has provided more than 3.5 million healthcare evaluations, and over 200,000 free reconstructive surgeries worldwide. With as little as $240 dollars, a surgery that can take as few as 45 minutes can transform the life of a child forever.
Operation Smile is dedicated to creating self-sufficiency in developing countries by training local doctors and medical professionals who are then empowered to treat their own local communities year-round. Over the course of its history, Operation Smile has strengthened local healthcare infrastructures and built medical capacity while working closely with local communities, ministries of health, and governments. In this way, Operation Smile has served as a catalyst for tens of thousands more surgeries through its medical training and surgical programs that are creating sustainability with partner countries. Operation Smile also engages in research and maternal, newborn and child health initiatives to help prevent the occurrence of cleft and educate families on how to best care for children born with facial deformities. Operation Smile's programs have a permanent impact, so every child born with a cleft can receive not only surgery, but related care, such as speech therapy, to help them reach their full potential.
To find out more about Tony Hawk's video, click here.