South Korean pop star Psy has joined the growing roster of public figures and celebrities participating in Rotary International's "This Close" public awareness campaign for polio eradication.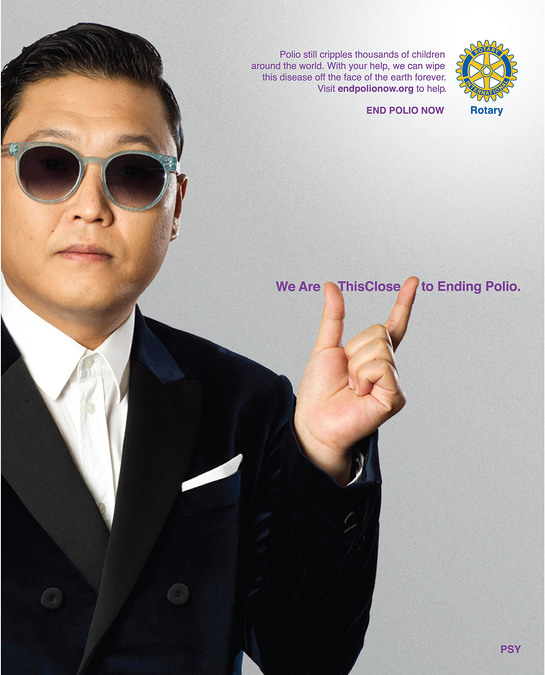 Psy, whose world renowned "Gangnam Style" video has become the first in the history of the internet to reach and surpass one billion YouTube views, will help Rotary achieve its goal of a polio-free world by raising his thumb and forefinger in the "this close" gesture in the ad with the tagline "we're this close to ending polio."
"I grew up in a Rotary family as my father and my late grandfather were Rotary members. My grandfather was very passionate and dedicated to Rotary," Psy said. "He had a big heart and always inspired me to help others." Psy's late grandfather had made substantial donations to The Rotary Foundation, the charity arm of Rotary International.
The debut of Psy's polio eradication spot is timely as he will be featured in one of the anticipated commercials in this year's February 3rd professional football championship game.
The Rotary awareness campaign also features public figures and celebrities including Bill Gates, co-chair of the Bill and Melinda Gates Foundation, Nobel Peace Prize laureate Archbishop Emeritus Desmond Tutu, action movie star Jackie Chan, golf legend Jack Nicklaus, conservationist Jane Goodall, premier violinist Itzhak Perlman, Grammy Award winners A.R. Rahman, Angelique Kidjo and Ziggy Marley, and peace advocate Queen Noor of Jordan.
Broadcast television commercials feature a mix of celebrities and non-celebrities around the world saying, "We are this close to making history. We are this close to changing the world. We are this close to ending polio—all we need is you."
In addition to the spot, Psy has also joined Rotary's innovative campaign to develop the World's Biggest Commercial to raise public awareness about polio eradication. Participants simply upload photos of themselves making the "this close" gesture with their fingers – as in, "We are this close to ending polio" – to the ever-expanding promotional spot at Rotary's End Polio Now website.
Along with helping Rotary set a new Guinness World Record, every person who joins the commercial can choose to add their name to a petition urging the world's governments to provide the US $5.5 billion needed to finish the job and end polio forever.
Polio eradication has been Rotary's top priority for more than two decades. The international humanitarian service organization is a spearheading partner in the Global Polio Eradication Initiative, along with the World Health Organization, the U.S. Centers for Disease Control and Prevention, and UNICEF.
Rotary club members worldwide have contributed more than $1.2 billion and countless volunteer hours to the polio eradication effort. Great progress has been made, and the incidence of polio infection has plunged from about 350,000 cases in 1988 to 222 reported cases in 2012. More than two billion children have been immunized in 122 countries, preventing five million cases of paralysis and 250,000 pediatric deaths.