By Myrlia Purcell on
Snoop Lion, formerly Snoop Dogg, is the latest celebrity to join the Voices Against Violence, teaming up with Tony Bennett, Mia Farrow and Sting in the movement for peace.
As we reported in April, the campaign was started by Bennett and his son, Danny, along with the Brady Campaign to Prevent Gun Violence, and allows US residents to text MYVOICE to 877877. After entering their zip codes, they will then be called back with a message from Sir Paul McCartney and prompted to leave a voice message for their Senate office.
So far, more than 30,000 people have phoned or texted through the Voices Against Violence campaign.
Snoop wants to lead by example, telling HipHopDX, "What should I do with this power? Should I abuse it? Should I continue to send my peoples down the wrong path? Or should I at least try to wake them up and let them know that there is another way and show them that the way that I'm doing it may be the new way. They've been following everything else that I've been giving them, let me give them something that got some substance to it with thought behind it."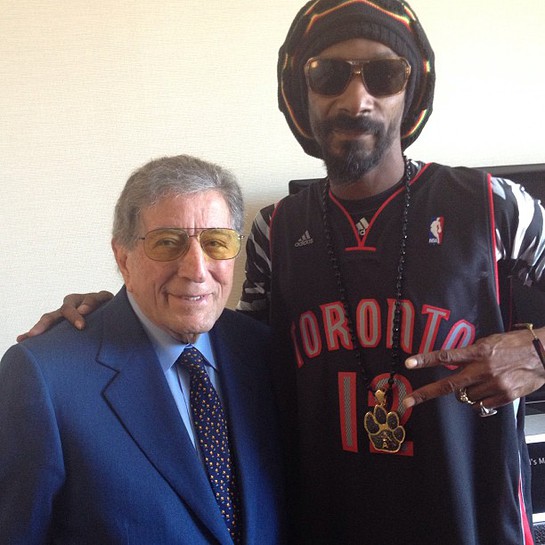 "One of [the solutions] is doing what I'm doing: correcting my mistakes by being a better person and putting out more energy and more music that represents what we're going through as opposed to what we went through."
This campaign isn't the only way in which the gangsta-rapper-turned-reggae-artist is trying to bring peace to the streets. In April, he teamed up with MTV and Jewelry for a Cause to create limited edition MTV x Caliber bracelets. The unisex bracelets feature unique serial numbers from illegal firearms returned via buyback programs. A portion of the proceeds from each sale are donated to the Newark Police Department to help fund future gun buyback amnesty programs.
Cities and states across the US are taking steps to get illegal guns off the streets, implementing gun buyback amnesty programs which allow citizens to return illegal guns to authorities for a cash reward with no questions asked. A recent gun buyback event in Essex County, New Jersey, saw over 1,700 guns turned in during a two-day buyback.
"This is such an important message we're sharing," said Snoop Lion. "It's a movement we want generations to recognize, embrace, and get behind. We've seen a lot of senseless acts of violence involving guns recently—too many have lost their lives, too many families have been destroyed. Like my friends at MTV, I want to be a part of the change that will help bring peace."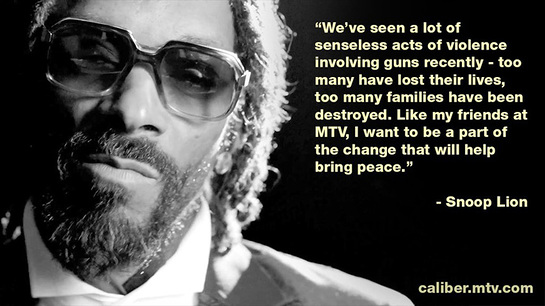 His recent video release "No Guns Allowed" makes it clear that he wants to see change, in himself and the world, and he has already inspired members of the League of Young Voters Education Fund to launch a grassroots "No Guns Allowed"campaign.
The initiative began when statistics acquired by the League of Young Voters showed that a child or teen dies or is injured from guns every 30 minutes in the United States.
"'No Guns Allowed' is a really important song to me," Snoop said in a statement. "I'm humbled that an organization like the League of Young Voters Education Fund supports what I'm saying in it and is taking action. Especially since they have been doing work for a long time to spread an anti-violence message in our communities."
Visit Causes.com/NoGunsAllowed for more info on the "No Guns Allowed" grassroots campaign.