Ricky Gervais, Sir Tom Jones, Steve Coogan, Simon Pegg, Paloma Faith, Sarah Jessica Parker and a host of the world's best loved and well-known house-hold names from Music, Film, TV and sport have pledged their support to male cancer awareness this November, by donating their signed and worn ties and scarves, all to be auctioned as part of the Cahonas Scotland 'Loosen Up' eBay campaign.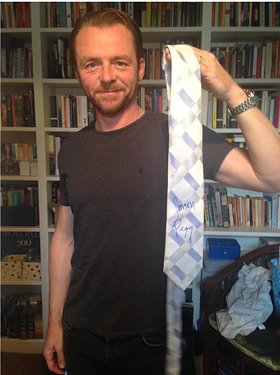 With men often "tongue tied" when discussing or dealing with male health issues the auction, in its 4th year, aims to bring positive change in Male Cancer Awareness.


Bidders have the chance to own some unique items including the tie worn by Steve Coogan in Alan Partridge movie, Alpha Papa and a tie signed and worn by Lawson band member Andy Brown in the Juliet music video. Other stars to have donated to the cause include Alan Cumming, Brian May, Kelly Jones, Paul Weller, Kevin McKidd and Stephen Fry.


The campaign has also seen support from Scots-rockers Franz Ferdinand who have donated their tour worn full suits to the cause.
The auction is being run through Ebay and interested bidders are invited to log on view the full list of celebrity owned ties and scarves available at www.loosenupauction.com. All money raised will help Cahonas Scotland to advance education, awareness and early diagnosis of Male Cancers.


Commenting on the launch of this years 'Loosen Up' campaign, Cahonas Scotland Founder and Chair, Ritchie Marshall said, "This is the fourth year we have hosted our auction. Over the years the Loosen Up Auction has attracted fantastic support – from award winning-actors and music artists to the top stars in Sport and TV favourites, and we expect this year to be just as popular. We would like to thank the many celebrities who have taken the time to engage with us and learn more about what we do and support our year end fundraiser.


"With their continued support and kind generosity we aim to make a real difference to the profile of men's health issues in 2015."
Cahonas Scotland exists to advance education of the public in matters relating to male cancers and to undertake where necessary the prevention of discrimination and stigma arising from diagnosis and the cancer experience. For more information visit www.cahonasscotland.com.
The complete list of celebrities with autographed ties and scarves: Alastair Kellock, Alan Cumming, Andy Brown (Lawson), Brian May, Christophe Berra, Fall Out Boy, Irvine Welsh, Kelly Jones (Stereophonics), Kim Coates, Laura Fraser, Neil Sullivan, Paloma Faith, Paul Weller, Peter Grant, Ricky Gervais, Roger Waters, Rufus Wainwright, Sarah Rafferty, Simon Pegg, Steve Coogan, Stephen Fry, Steven Pressley, The Overtones, Ty Burrell.
Other items will also be up for auction include an Ana Ivanovic signed and worn dress, Signed Rafael Nadal Shorts, a signed tennis racquet from Charity Ambassador Kevin McKidd and a number of signed items from Sarah Jessica Parker, Liam Gallagher and Jake Bugg and a signed and worn Stuart Hogg Scotland Rugby shirt.