Prince Harry proved he is a natural when it comes to closing a trade when he brokered multi-million pound City deals to raise money for charity today.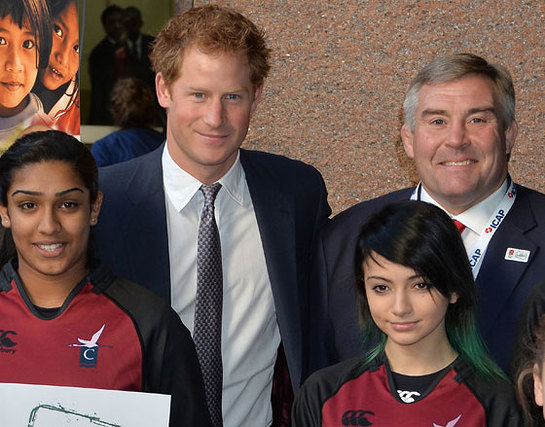 His Royal Highness helped to raise thousands of pounds for good causes when he joined brokers at the global firm ICAP on the company's annual charity day.
The Prince confessed earlier in the week that he is plagued by nerves whenever he walks into a room to meet people in a campaign for his charity Sentebale called #FeelNoShame, but today he showed no fear on the trading floor.
Other celebrities also brokered deals during the day from Homeland star Damian Lewis, to music mogul Simon Cowell, actress Helen Mirren and former England footballer Sol Campbell.
While Prince Harry looked smart in a suit, all the brokers wore fancy dress from comic book heroes like Batman and Robin to Henry VIII, joined by four of his wives, and characters from movies and children's books.
The trading floors may have had a party atmosphere but The Prince still found himself under pressure to get the best prices as he visited a number of desks dealing in everything from fuel oil to the Euro.
ICAP is an inter-dealer broker that matches buyers and sellers who want to trade in a range of products and Prince Harry was praised when he pushed a deal on the Government bonds desk up by £5 million to £30 million.
Alexander Blayney, who was dressed in an emerald green suit decorated with shamrocks while his colleagues sported ones decorated with a union flag, said about Prince Harry: "My seller was finished selling but he snatched the phone off me and forced him to do some more for charity.
"He is a better broker than I am, put it that way. It was natural class, natural talent."
On the shipping desk, Prince Harry was surrounded by brokers from around the room all in fancy dress and was handed a phone and told to speak to Alex Gustavsson from Brostoms shipping owners.
The trader's face popped up on a screen and a broker near The Prince said he looked like The Duke of Cambridge.
To laughter, Prince Harry told Mr Gustavsson: "Apparently you look like my brother – I disagree."
Damian Lewis, who is one of the main supporters of the charity Prostate Cancer UK, bumped into The Prince a few minutes later when he was brokering a coal deal.
Prince Harry called out to the actor, "I see another ginger", and the celebrity replied, "What's it like to be the second most famous redhead then?"
After completing the coal deal worth £20,000 with a trader from a well known City bank, the trader was put on speakerphone and he joked: "Nice to have a broker who is not from Essex."
Broker Denis Walton, who was dressed in a big green furry Oscar suit, a character from Sesame Street, helped The Prince make the deal.
He said: "We're all from Essex here, I'm from Brentwood. He did fantastically well.
"It's not easy picking up the terminology which can be confusing, but he did, and just by taking two phone calls he made £20,000 for charity."
At one point, Prince Harry had a phone at each ear as he berated a buyer and a seller as he tried to make a deal on the Foward Euro desk.
He told them simultaneously, "Listen, you're both taking the mickey now", before closing the deal with the words, "Buying Euro at 44? Done".
Prince Harry's last stop was at the interest rate option desk where broker Rupert Summers, who was dressed like colleagues around him as the character Heidi complete with blond pig-tails, curtseyed then winked at The Prince who replied: "Don't try and chat me up – that's really weird."
All the global revenues from trading during ICAP's charity day will go to a number of charities around the world, including England Rugby's All Schools Programme, of which Harry is patron.
England Rugby developed the programme to increase the rugby played in state secondary schools and to encourage new players to join local clubs.
A number of England rugby stars joined The Prince for the visit, including England centre Brad Barritt, nursing a black eye and a leg injury after the national side's victory over Australia at the weekend.
Former England rugby star Jason Leonard, senior vice president of the Rugby Football Foundation, and ex-England rugby captain Bill Beaumont were also at the event.
Other charities which will benefit from the fundraising day include Action Against Hunger, Women for Women International and Prostate Cancer UK.
Last year, the company's charity day raised £9.5 million for good causes and it has generated more than £110 million since it was first held in 1993.
Source: www.princehenryofwales.org