Kristen Bell is the newest face to join Rotary's 'This Close' public awareness campaign for polio eradication.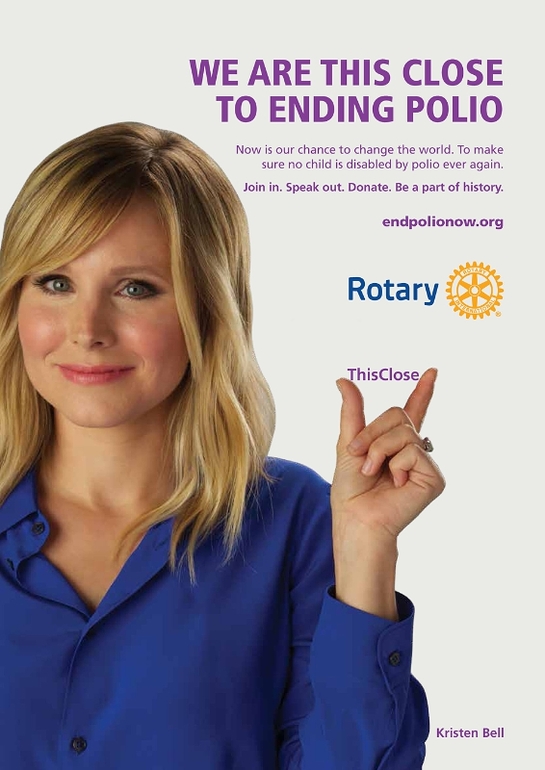 A paralyzing and life altering disease, polio is on the verge of becoming the second human disease ever to be eliminated worldwide after smallpox.
Bell joins Rotary's fight against polio as the service organization and its partners in the Global Polio Eradication Initiative enter the final push to eliminate the vaccine-preventable disease. With the historic removal of Nigeria from the list of polio-endemic countries last month, just two continue to report polio cases– Pakistan and Afghanistan.
"I am overjoyed to work with Rotary at such an important moment in history," Bell said. "To help create awareness about this horrible disease is exhilarating."
Bell is best known for her roles as the quick-witted, sassy title character in the hit series Veronica Mars, razor-sharp Jeannie van der Hooven of House of Lies and the voice of Princess Anna of Arendelle in Disney's third highest-grossing film Frozen. She became interested in the importance of vaccines after the birth of her two daughters, Lincoln (age two) and Delta (age one).
"As the mother of two young girls, I can't emphasize enough how important it is to make sure every child is safe," she said. "Polio can be prevented with just 60 cents worth of vaccine – there's absolutely no reason any child should suffer from it. Hopefully by lending my voice to send this message, I can help rid the world of polio forever."
As part of the 'This Close' campaign, Bell will be featured in ads raising her thumb and forefinger in the 'this close' gesture with the tagline 'we're this close to ending polio.' Since the initiative launched in 1988, the incidence of polio has plummeted by more than 99.9 percent, from about 350,000 cases a year to less than 400 confirmed in 2014.
The actress joins other public figures and celebrities participating in Rotary's public awareness campaign, including Bill Gates, co-chair of the Bill and Melinda Gates Foundation; Supermodel Isabeli Fontana; Nobel Peace Prize laureate Archbishop Emeritus Desmond Tutu; action movie star Jackie Chan; boxing great Manny Pacquiao; pop star Psy; golf legend Jack Nicklaus; conservationist Jane Goodall; premier violinist Itzhak Perlman; Grammy Award winners AR Rahman; Angelique Kidjo and Ziggy Marley; and peace advocate Queen Noor of Jordan.
Bell's ad will debut during Rotary's World Polio Day livestream event, taking place on Friday, 23 October at 6:30 p.m. EST at the Metropolitan Pavilion in New York City. Click here to view the streaming event.
Rotary launched its polio immunization program PolioPlus in 1985 and in 1988 became a spearheading partner in the Global Polio Eradication Initiative with the World Health Organization (WHO), the United Nations Children's Fund (UNICEF), the U.S. Centers for Disease Control and Prevention (CDC) and more recently the Bill & Melinda Gates Foundation.
Rotary's roles within the initiative are fundraising, advocacy, raising awareness and mobilizing volunteers. To date, Rotary has contributed more than $1.4 billion and countless volunteer hours to fight polio. Through 2018, every dollar Rotary commits to polio eradication will be matched two-to-one by the Bill & Melinda Gates Foundation up to $35 million a year. To date, more than 2.5 billion children have been immunized against the paralyzing and sometimes deadly poliovirus.