An impressive 1.25 million dollars was raised at the annual Bovet 1822 Artists for Peace and Justice (APJ) Festival Fair presented at Casa Loma.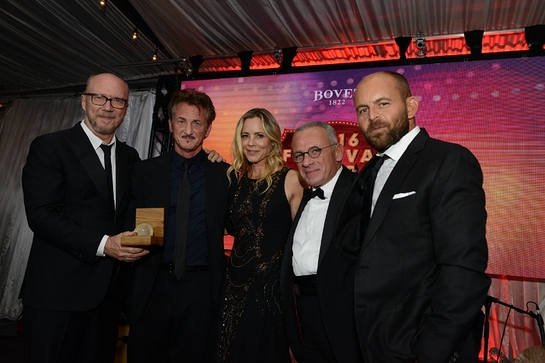 Co-chaired by Natasha Koifman and Suzanne Boyd, the event was co-hosted by an influential team, including APJ Founder, Paul Haggis, Jeremy Renner, Jim Belushi, Catherine Keener, Maria Bello, Maxwell, Jimmy Jean-Louis, George Stroumboulopoulos, and Bovet 1822 Owner Pascal Raffy.
Held at the majestic Casa Loma (operated by Liberty Entertainment Group), the evening's title sponsor was APJ strategic partner Bovet 1822. Thanks to the exceptional support of Bovet 1822, APJ is able to give 100 per cent of every dollar raised directly to supporting health, dignity and education initiatives in Haiti.
Haggis, Raffy and Bello presented J/P Haitian Relief Organization (J/P HRO) founder Sean Penn with the second annual Peace and Justice Award, recognizing his extraordinary longstanding commitment to supporting communities in Haiti and promoting the ideals of peace and social justice around the world. Bello started her tribute to Penn by asking guests to declare a word that described him; when the word "Relentless" was sounded, there was a collective sigh of agreement in the room. Other words to describe the award recipient: generous, passionate, kind, fearless. Upon accepting his award, to a standing ovation, Penn encouraged every table in the room to commit to giving at least $1000 each to APJ, many making donations substantially more than this amount.
A live auction throughout the evening, led by auctioneer Stephen Ranger, helped to sell one-of-a-kind experiences that went for impressive amounts in support of the cause, including:
• Attending the premiere of Paul Haggis's Gold, starring Matthew McConaughey;
• soul crooner Maxwell's surprise auction item of accompanying him and Queen of R&B Mary J. Blige on their King + Queen of Hearts world tour. Some bidding from singer-songwriter Nelly Furtado and an offer of a personal massage from Maxwell himself got the auction item to go twice, for $30,000 each
• Furtado's own auction item of a living room concert for 12 people went for $70,000;
• Jeremy Renner promised to be a perfect "gentleman" if someone bid on a date with himself; he promised to be "inappropriate" if someone bid even more. In the end, his auction item, which went for $50,000, was won by a duo Dean and Dan Caten of DSQUARDED to go on a double date with the star for the red carpet TIFF premiere of his film The Arrival.
• A day on set with David Simon's new HBO series The Deuce starring James Franco and Maggie Gyllenhaal went for $30,000 and;
• $45,000 was pledged for a trip via private jet with Prime Minister Justin Trudeau, Sophie Gregorie Trudeau and George Stroumboulopoulos to the Global Citizen Festival to hear Usher and Metric perform.
Guests in attendance were treated to a musical performance of "It's A Wonderful World" by the indie-soul American singer-songwriter, Arum Rae. Slaight Music artist Kayla Diamond, winner of the label's It's Your Shot contest, also entertained the crowd earlier that evening with her alt-rock tunes.
Additional VIPs who walked the red carpet for the event, included Jimmy Jean-Louis, Maripier Morin, Peter Tunney, Gabriella Wright, Jeanne Beker, Ian Hylton, Drew and Jonathan Scott, and Kevin O'Leary.
Immediately following the 2010 earthquake, APJ funded the purchase of land and construction to build Haiti's largest and first free high school, the Academy for Peace and Justice, which serves the poorest and most deserving youth in Port-au-Prince. The Academy reached 2800 students at full capacity in 2016 and celebrated its first graduating class, giving underprivileged children the opportunity to continue their education beyond the sixth grade.
"The Toronto APJ event is the number one fundraiser of our year. Since 2009 when we launched APJ at TIFF, we have been able to give Haitian children a chance to go to school and build a brighter future for their country," says Haggis. "In eight years with the incredible Toronto community and our APJ family, we've accomplished an unbelievable amount, including celebrating the first ever graduation. Thanks to our many supporters, we've made great strides in bringing education, healthcare, and hope to the children of Haiti, but there continues to be so much more that we can do. Tonight, we have honoured our friends and recognized our achievements, but we must maintain the momentum to create jobs, empower young people and help support the next generation of Haitian leaders."
In addition to the generous donations made by event attendees, organizations came together to give back. These included: Bovet 1822, Liberty Entertainment Group, Joe Fresh, Milborne Real Estate, Sentry Investments, Audi, Slaight Music, NKPR, The Farwell Group and The Remington Group.