On Thursday, February 16, 2017, the Women's Cancer Research Fund (WCRF) Honorary Chairs Rita Wilson and Tom Hanks, along with WCRF co-founders Quinn Ezralow, Marion Laurie, Kelly Chapman Meyer, and Jaime Tisch welcomed guests to An Unforgettable Evening presented by Saks Fifth Avenue.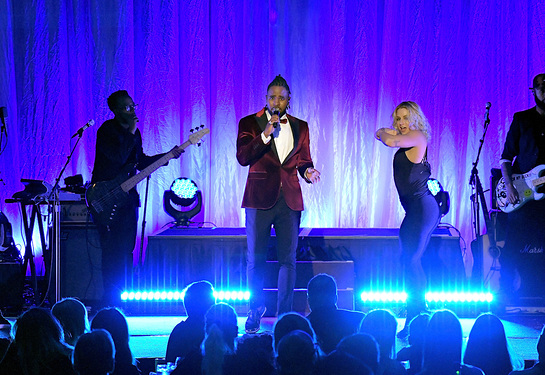 After a three-year hiatus, the event returned to the Beverly Wilshire Hotel, with proceeds benefiting the Women's Cancer Research Fund, a program of the Breast Cancer Research Foundation (BCRF).
Hosted by comedian and breast cancer survivor Tig Notaro, the evening included cocktails, a dinner, and an awards presentation. Renowned fashion designer and film director Tom Ford received the 2017 Courage Award for his continued support and dedication to raising awareness for the disease from Honorary Chairs Rita Wilson and Tom Hanks. Elizabeth Hurley and Danielle Lauder presented the Nat King Cole Award to Judy and Leonard Lauder for their charitable works and contributions. Coldplay's Chris Martin took the stage for a surprise performance, opening with a soulful rendition of Wham!'s "Wake Me Up Before You Go-Go," and included his take on Leonard Cohen's "Suzanne," Prince's "Raspberry Beret," and the David Bowie classic "Life on Mars." The evening closed with a special musical performance by multi-platinum selling pop star Jason Derulo, who sang a four-song set including hits "Trumpets," "Wiggle," "Talk Dirty," and "Want To Want Me." The event raised over $1.8 million for the cause.
Additional guests in attendance included Erin Andrews, Tom Arnold, Cynthia Bailey, Sacha Baron Cohen, Sam Claflin, Majandra Delfino, Lisa Eisner, Lauren Elizabeth, Isla Fisher, Cameron Fuller, Brittny Gastineau, Lisa Gastineau, Gina Gershon, Cornelia Guest, Laura Haddock, Jessica Hart, Victoria Justice, George Kotsiopoulos, Lisa Kudrow, Eugene Levy, Crystal Lourd, Ron Meyer, Chord Overstreet, Glen Powell, Wolfgang Puck, Doc Rivers, George Schlatter, Martin Short, Taylor John Smith, Destry Spielberg, Gela Taylor, John Taylor, Steve Tisch, Ann Turkel, Elizabeth Turner, Amber Valletta, David Walton, Irwin Winkler, and more.
An Unforgettable Evening is the flagship fundraising event of WCRF, which continues to raise support for innovative cancer research and to recognize remarkable individuals for their commitment to the cause. WCRF recently joined forces with the Breast Cancer Research Foundation (BCRF), the highest rated breast cancer organization in the US and largest private funder of breast cancer research in the world. Founded in 1993 by Evelyn H. Lauder, BCRF investigators have been involved in every major breakthrough in breast cancer research, impacting developments across a spectrum of cancers. This exciting new collaboration with BCRF allows WCRF to fast-track more effective approaches to the study and early diagnosis of women's cancers.
Saks Fifth Avenue generously supported WCRF to present An Unforgettable Evening for the 13th time. Over the last 18 years, Saks has donated nearly $40 million to cancer research and treatment organizations throughout the United States.