The world's largest youth empowerment event, WE Day, returned to The "Fabulous" Forum for the third year in celebration of young people committed to making a difference.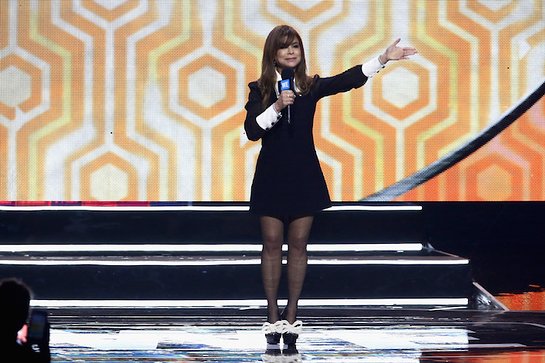 Over 16,000 students and educators from across the state attended for a powerful, life-changing experience featuring renowned speakers, innovative thought leaders and celebrity performers including Anthony Anderson, Jennifer Aniston, Dierks Bentley, The Chainsmokers, The March for Our Lives co-founders Jaclyn Corin and Cameron Kasky, Will Ferrell, Morgan Freeman, Selena Gomez, Dr. Phil McGraw, Martin Sheen, Lilly Singh, John Stamos and more. Joined by international activists and WE Day co-founders, Craig and Marc Kielburger, the exciting lineup shared their passion for change, energized the crowd and motivated young people to continue to take action on pressing issues to affect positive change in their communities and around the world.
A few must-see highlights included:
Jennifer Aniston applauded and thanked the 16,000 youth in the audience and across America for leading the movement of change and she handed the mic over to March for Our Lives co-founders, Jaclyn Corin and Cameron Kasky who addressed their peers with a powerful rallying speech.

Moving performances lit up the WE Day stage; The Chainsmokers performed their hit song "Sick Boy", Cyndi Lauper performed a rendition of "Ooh Child" alongside JD McCrary and Dierks Bentley honored inspirational women around the world with a performance of his latest single, "Woman, Amen".
"I feel honored to be part of celebrating the young people out there who inspire us all to do more," said Bentley. "These are everyday people who choose to help make their communities and beyond better."
Morgan Freeman was joined by the first-ever American Youth Poet Laureate, Amanda Gorman, to recite the poem "Life is Like a Rollercoaster" written by the late Alex Schachter who tragically lost his life on February 14, 2018 at Marjory Stoneman Douglas High School in Parkland, Florida.
"The young people gathered at WE Day California show us just how powerful it is when people of any age come together to advocate for the change they want to see in their world," said Freeman. "It is both humbling and inspiring to be in the presence of tens of thousands of youth who have shown us that leadership, when guided by empathy, can and will make a difference."
WE Day California also featured Paula Abdul, Sofia Carson, Celebrity Marauders, Lonnie Chavis, Monique Coleman, Lily Collins, DVSN, Jordan Fisher, Connor Franta, Gunnar Gehl, Lizzy Greene, Winnie Harlow, Laurie Hernandez, Olivia Holt, Liza Koshy, Bailee Madison, Jenna Ortega, Lele Pons, Jessie Reyez, Nicole Richie, Kelly Sawyer, Drew Scott, JoJo Siwa, Norah Weinstein, Henry Winkler, Spencer West and Maddie Ziegler.
More than a one-day event, WE Day is connected to the free, yearlong educational program, WE Schools. The program provides schools and community groups with curriculum, educational resources and action campaigns designed to enhance a school's existing social initiatives or spark new ones. In the 2016/2017 school year, schools and groups across California improved their communities through WE Schools, volunteering more than 836,000 hours and raising over $2.2 million in support of more than 610 local and global causes including hunger, homelessness, bullying, volunteerism, health and wellness.
"Today we celebrate remarkable students who are part of the WE generation — young leaders from across California who have committed to creating change at home and around the world," said Craig Kielburger, co-founder of WE. "With the support of their incredible teachers, these students joined together in support of local and global organizations, affecting countless lives. WE Day celebrates their world-changing achievements and inspires another year of working together towards positive impact."