On Saturday, October 6, event chair Barbara Davis hosted her iconic Carousel of Hope Ball at the Beverly Hilton in Beverly Hills.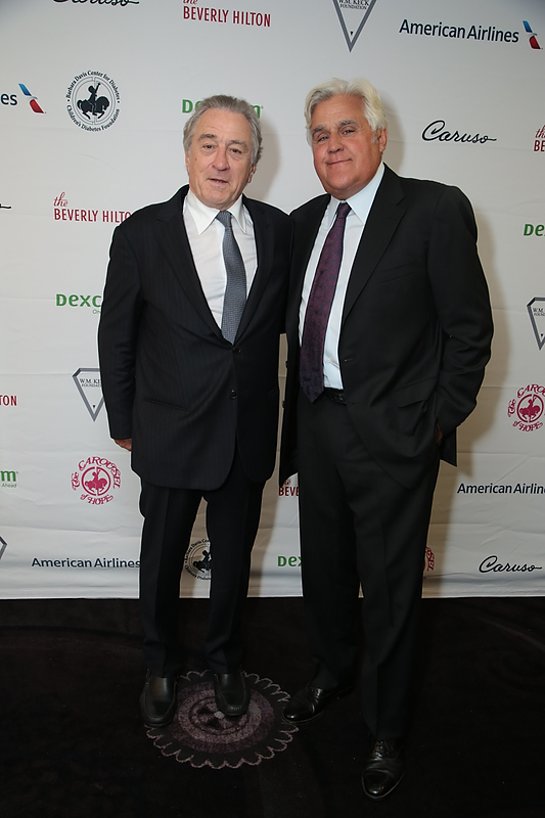 The gala, a Hollywood institution since 1978, honored longtime supporter Robert De Niro with the "Brass Ring Award" for his philanthropic efforts and continued dedication to the cause. Patrons of the evening were treated to show-stopping performances by legends Gladys Knight, Kenny Babyface Edmonds, and David Foster. The Carousel of Hope Ball has raised more than $100 million to date, with proceeds benefitting the Children's Diabetes Foundation and the Barbara Davis Center for Childhood Diabetes. This year's gala alone raised over $1.9 Million.
Award-winning director David O. Russell took the stage to present his friend and frequent collaborator Robert De Niro with this year's "Brass Ring Award." De Niro delivered a heartfelt speech, recognizing the awe-inspiring work being done by the evening's host, Barbara Davis. He listed the many reasons to love Mrs. Davis and said that "we're all in her debt because she's so nice, generous, and committed, but she doesn't just throw money at the challenge of treating and beating type 1 diabetes, she puts her resources where they will do the most good. It's informed philanthropy – not just about giving, but about getting it done!"
The award was named after the elusive brass ring that carousel riders would try to catch when the ride first became popular. Now universally recognized as a symbol of achievement, the brass ring represents the ultimate goal of finding a cure for diabetes. Each of the "Brass Ring Award" recipients exemplifies the dedication and strength that brings the Children's Diabetes Foundation and the Barbara Davis Center one step closer to finding a cure.
David Foster led the evening's musical festivities, introducing a few of his wildly talented artists, Pia Toscano, Shelea Frazier, and Fernando Varela, who brought the house down with classics including "I Will Always Love You" and "Nessun Dorma." Kenny "Babyface" Edmonds delivered an exciting rendition of Eric Clapton's "Change the World" and an emotional performance of "When Can I See You." Legendary performer Gladys Knight had the crowd singing along to some of her biggest hits like "Midnight Train to Georgia" and "Best Thing That Ever Happened To Me," and surprised everyone with a mesmerizing cover of Sam Smith's "Stay With Me." Carrying on a Carousel of Hope tradition, the evening culminated in a group performance of "That's What Friends Are For," which featured all of the evening's participants gathering together in harmony.
The always-entertaining Jay Leno reprised his role of Master of Ceremonies, and added "Auctioneer" this year. He led a memorable live auction experience that had guests bidding on items ranging from a bespoke trip for four to the "albergo diffuso" Monteverdi Tuscany, to a private meeting with Clive Davis himself at his New York City office. During a silent auction earlier in the evening, guests had the chance to bid on a wide range of one-of-a-kind items including a Serena Williams autographed tennis racket, a Lenny Kravitz autographed Gibson Flying V guitar, a Meet & Greet with Lionel Richie in Vegas for four, and a three-night stay at The Kahala Hotel & Resort in Honolulu. The show was produced by another longtime friend of the organization, the brilliant George Schlatter. Music icons Clive Davis and Quincy Jones served as the evening's Music Chairmen,
Additional guests included Debbie Allen, Catherine Bach, Ed Begley Jr. & Rachelle Carson-Begley, Alana Collins Stewart, Joan Collins, Billy Davis, Loretta Devine, Frances Fisher, Daisy Fuentes & Richard Marx, George Hamilton, Lisa Rinna & Harry Hamlin, Nikki Haskell, Lauren Holly, Deborah Joy-Winans, Josh Kercher, Taylor Kinney, Art Linson & Fiona Lewis, Nigel Lythgoe & Lisa LoCicero, Maureen McCormick & Michael Cumming, Katharine McPhee, Bob Newhart, Brigitte Nielson, Norm Nixon, Robin Plunkett, Andre Reed, Elisabeth Röhm, David O. Russell, Fred Savage, John Savage, Jolene Schlatter, Hilary Shor, Suzanne Somers & Alan Hamel, Lea Thompson, Ann Turkel & Vincent Spano, Diane Warren, and many more!
The 2018 Carousel of Hope Ball is generously sponsored by American Airlines, the Official Airline of The Carousel of Hope; The Beverly Hilton; Tina & Rick Caruso; Marlyn & Robert Day; and Dexcom.