The world is joining New Zealand in mourning the 50 victims of the Christchurch mosque shootings that took place on Friday.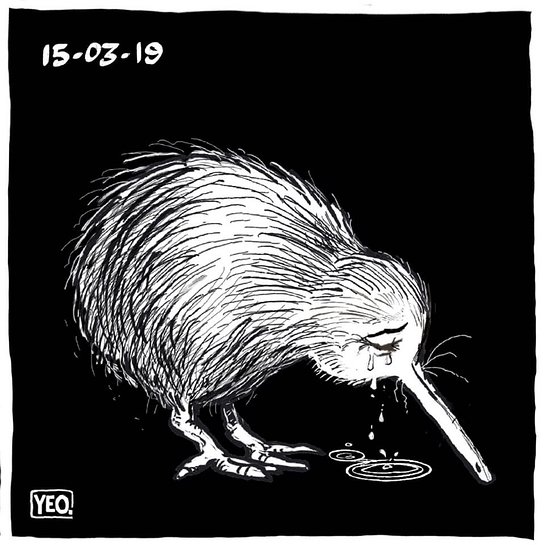 Cities around the world showed solidarity with New Zealand over the weekend, with monuments such as the Sydney Opera House, the Eiffel Tower and the Empire State Building going dark to show the people of New Zealand that they do not weep alone.
Bryan Adams, who was due to play a concert in the city on Sunday, said: "My heart goes out to all the families of the victims of today's horrific mass shooting." He later canceled his show.
Cat Stevens added: "So heart-wrenching to see what has just happened in Christchurch. May God bless the souls who came to the mosque to worship Him in peace. What madness is now spreading? May God's Garden be their next stop."
Other stars who have sent their condolences to those affected by the senseless shootings include New Zealand born actor Russell Crowe: "My heart breaks for all the families involved, and for the beautiful people of New Zealand to whose hearts this pain will attach, for a long time."
Sam Neill: "The grotesque white supremacist ideology behind this atrocity, the slaughter of our brothers and sisters. Again to the Muslim community in NZ- we love you and weep with you."
Stephen Fry: "Words fail us at such times, but New Zealand should know that we weep with them. In whose name and on whose behalf do the brutal perpetrators of this abominable crime believe they are acting? Send messages of love and support to your nearest mosque."
Mark Ruffalo: "More heartbreaking and enraging news, my deepest sympathy to those lost in another racist bigoted killing in New Zealand."
Reese Witherspoon: "My heart goes out to the people of New Zealand. There are not enough prayers for such a senseless act of violence. Please know that I am here for you all while you grieve."
Christina Aguilera: "To the Muslim community at Christchurch & around the world, we are with you….we will keep fighting back with love."
World leaders have also sent their support:
Barack Obama: "Michelle and I send our condolences to the people of New Zealand. We grieve with you and the Muslim community. All of us must stand against hatred in all its forms."
British Prime Minister Theresa May: "On behalf of the UK, my deepest condolences to the people of New Zealand after the horrifying terrorist attack in Christchurch. My thoughts are with all of those affected by this sickening act of violence."
Hillary Clinton: "My heart breaks for New Zealand & the global Muslim community. We must continue to fight the perpetuation and normalization of Islamophobia and racism in all its forms."