Kicking off National Autism Awareness Month, a whole bunch of celebrities have signed porcelain versions of the iconic Lindt Gold Bunny for a celebrity charity auction from premium Swiss chocolatier Lindt.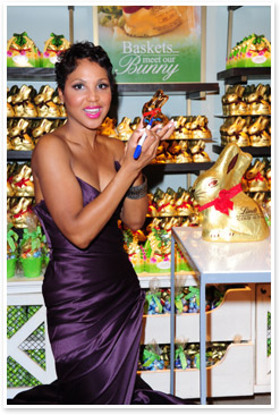 Toni Braxton
April is National Autism Awareness Month and 100 percent of the proceeds from the auction will benefit Autism Speaks.
Some of the stars who are taking part include Toni Braxton, Yoko Ono, Orlando Bloom, Roger Federer, Ricky Gervais, Kim Kardashian, Toby Keith, Padma Lakshmi, Gwyneth Paltrow, Sarah Jessica Parker, Paul Simon, Hugh Hefner, Betty White and many many more.
The auction runs until April 9, and can be accessed here.