The charity auction for the unique hat worn by Princess Beatrice at the royal wedding between Prince William and Kate Middleton has just ended, with over £81,000 being raised for two organizations close to the young princess' heart.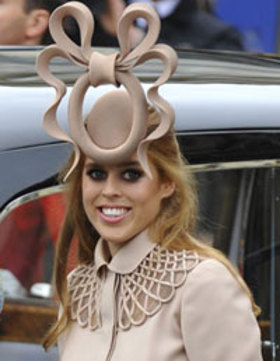 The auction began on Thursday 12 May, with an initial £5,000 bid from UNICEF UK Ambassador Duncan Bannatyne. The final amount raised was £81,100.01.
"I cannot believe the amazing response to the hat," Princess Beatrice told UNICEF. "I am so grateful to all those who have taken the time to participate in the auction, because their support will make a real difference. This has been such a wonderful project to be a part of."
Bids came from across the world, from the UK and US, to Singapore, Bulgaria, Canada and Sweden. Even Australian children's supergroup The Wiggles jumped in on the action, placing a number of bids.
On Twitter, the likes of Victoria Beckham, Stephen Fry, and Cat Deeley tweeted enthusiastically about the hat, with Fry describing it as "glorious" and a "fine lid."
Proceeds from the auction will be split evenly between Children In Crisis – a charity founded by Beatrice's mother, Sarah Ferguson, in 1993 to provide educational opportunities to children in some of the world's poorest countries – and UNICEF.
Koy Thomson, the chief executive of Children in Crisis, said: "The world's most talked about hat has created the world's most watched auction, and created the iconic charity event of 2011. We would like to thank the bidder for this extraordinarily generous bid, earning yourself a place in history, making lives better for terribly disadvantaged children, and getting a very striking hat."