Legendary international recording artist and songwriter Robin Gibb CBE is the latest artist to be confirmed as one of the performers at this year's prestigious Caudwell Children Butterfly Ball on Thursday, 15th September.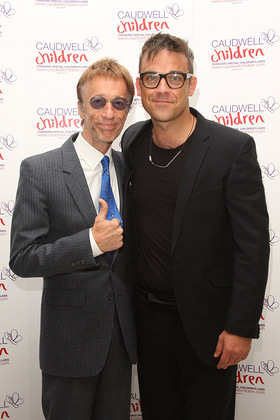 Robin Gibb and Robbie Williams at Caudwell Children event
He will join Grammy award-wining R&B singer songwriter Billy Ocean as one of several acts for this year's exclusive evening, which has seen the likes of Tina Turner, Whitney Houston and Sir Elton John entertain the glamorous audience.
The Butterfly Ball is again expected to rank as one of this year's 'must attend' charity events and has raised over £7 million in the last four years to help disabled children in the UK.
The Butterfly Ball attracts famous faces from screen, sport and music; including the charity's ambassadors Elizabeth Hurley, Sir Bruce Forsyth, Joan Collins, Peter André, Rod Stewart and Penny Lancaster.
Former Olympic athlete turned TV presenter Colin Jackson CBE will take to the stage at Battersea Evolution as the evening's compere. He will be joined by actor and TV personality, Christopher Biggins, for the highly anticipated fundraising auction.
Robin Gibb is the latest artist to be announced to perform at the high profile event, which raises funds to provide vital specialist equipment, treatments and therapy for disabled children living in the UK.
Founded by successful entrepreneur-turned-philanthropist, John Caudwell, the Charity has donated over £13million and helped change the lives of thousands of children across the UK.
Gibb will be joined by a number of special guests also performing on the evening, but he is only the second act to be named as the charity has kept the remaining details a secret.
Trudi Beswick, Chief Executive of Caudwell Children, said "We are thrilled to have such fantastic support again for this year's Butterfly Ball and we are very excited to have more live entertainment than ever before.
"Each year we try to offer our guests something extra special and the 2011 Butterfly Ball is no exception with an array of fantastic entertainment and elegance in store."
Singer songwriter Robin Gibb, best known as a member of the Bee Gees, sold over 200 million records and became one of the most famous pop groups of all time.
Robin Gibb, said ""Performing at the 2011 Butterfly Ball will be a great honour and something I am proud to be a part of. Each year the Butterfly Ball goes a long way in helping change the lives of disabled children and helps raise awareness of the charity's great work. I am looking forward to being part of this year's success."
The Butterfly Ball takes place at Battersea Evolution, London, on Thursday, 15th September.
Details about the glamorous event and ticket details are available by visiting www.caudwellchildren.com/butterfly-ball-2011 or by calling the charity on 01782 600113.