ABC's Extreme Makeover: Home Edition is teaming up with the Entertainment Industry Foundation (EIF) to present a one-hour special: Extreme Makeover: Home Edition "Rise and Honor" A Veterans Day Special, featuring appearances by some huge celebrities.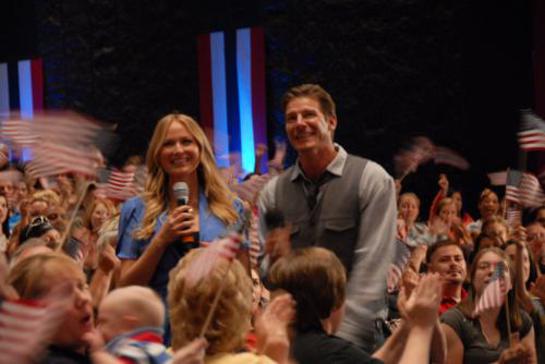 Jewel and Ty Pennington
Airing on Veterans Day (11/11/11), host Ty Pennington will take us back to some of the most heartwarming military stories featured over the years. The EMHE crew will also pay a visit to select heroic families to find out what they've been up to since the makeover and how they are paying it forward by helping their fellow veterans. The special will culminate in a celebratory event that will feature an audience of active-duty service members and veterans in addition to a live musical performance by Jewel, who will also co-host the special.
Throughout the episode, celebrities will shine a light on issues veterans face after serving in the military, as well as the strengths and skills returning veterans bring to the work force and their communities. The Veterans Day program will include appearances by Whoopi Goldberg, George Lopez, J.R. Martinez, Rachael Ray, Sherri Shepherd, Robin Williams and Major League Baseball (MLB) players Daniel Murphy of the Mets, Shane Victorino of the Phillies and Clay Buchholz of the Red Sox. The celebrities will encourage the public to donate via phone and web at www.riseandhonor.org.
Net proceeds raised during this one-hour special will benefit the following veteran-serving organizations: Fisher House Foundation, Hire Heroes USA, Intrepid Fallen Heroes Fund, USO, Volunteers of America and Welcome Back Veterans. These organizations provide vital services and support to our nation's veterans and their families including housing, job placement, career readiness, health care, rehabilitation and mental health treatment. This television event is made possible due to the generous support of ABC, The Clorox Company and MLB.
"We are thrilled to partner with ABC and the Extreme Makeover: Home Edition team to honor the brave men and women who have sacrificed so much for our country," said Entertainment Industry Foundation President and CEO Lisa Paulsen. "We hope this inspiring program will rally Americans to give back to our military families and support organizations that provide vital services to our veterans and their families."
"We've highlighted the difficult struggles our veterans often face when returning home. We are so proud to take this a step further with a moving tribute to our nation's heroes, while inspiring Americans to give back to those who've given our country so much," said George Verschoor, Executive Producer of Extreme Makeover: Home Edition. "In 200 episodes, we've seen thousands of armed forces volunteer to help us rebuild homes and lives. Now we're thrilled to be able to honor all veterans with this television special," said Brady Connell, Executive Producer of Extreme Makeover: Home Edition.
Less than one percent of America's men and women currently serve in our military. For many, the return to civilian life is marked with physical and emotional wounds. As of June 30, 2010, Veterans Affairs treated 594,000 Operation Enduring Freedom/Operation Iraqi Freedom veteran patients. Of those, 295,000 were diagnosed with at least one mental health condition such as Post-Traumatic Stress Disorder (PTSD).
In addition, some face a grim economic reality. As recently as January 2011, the unemployment rate among veterans from the Iraq and Afghanistan wars was 15 percent; that's nearly double the national average. Furthermore, their sacrifice extends beyond themselves to their families as more than 700,000 children have experienced one or more parental deployments.
"All across the country, we have talented and dedicated veterans who have been unemployed for far too long," said Hilda Solis, Secretary of the U.S. Department of Labor. "These service men and women are right here and ready to get back to work. They just need a little help from all of us to find a good job at a fair wage and successfully transition from military to civilian life. We applaud ABC and the Entertainment Industry Foundation for broadcasting this special show to raise awareness of the needs of our returning veterans and their families."
EIF, in collaboration with ABC, hopes to raise funds to combat challenges facing our veterans as well as educate Americans on how they can support our heroes through Extreme Makeover: Home Edition "Rise and Honor" A Veterans Day Special. For more information and to make a donation to support veterans and military families, visit www.riseandhonor.org.