Ne-Yo, Neon Trees, Nicole Richie, Lucy Hale, Jesse Williams, Heather Morris, Anthony Anderson, James Maslow, Carlos Pena Jr, Victoria Justice and the cast of See Dad Run were among the celebs who took to the Hollywood Palladium stage to join host Nick Cannon in honoring five extraordinary teens for the 2012 TeenNick HALO Awards live event.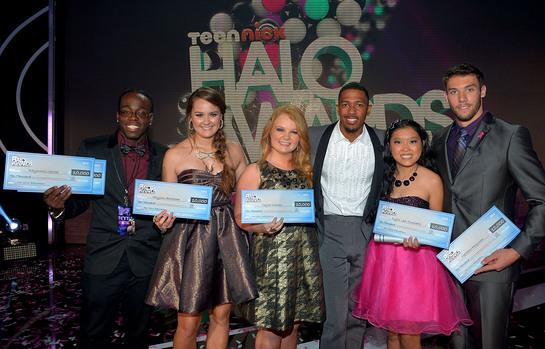 The fourth annual TeenNick HALO Awards was held today and will air as a 90-minute special premiering Monday, Nov. 19, at 8 p.m. (ET/PT), on Nick at Nite, with an encore Tuesday, Nov. 20, at 10 p.m. (ET) on TeenNick. Conceived, hosted and executive-produced by Cannon, the awards show recognizes and celebrates real teens who are "Helping and Leading Others" (HALO).
During the star-studded evening, Neon Trees rocked the stage with their hit single "Everybody Talks" and Ne-Yo had the crowd singing along to "Let Me Love You." In a surprise moment onstage, Richie awarded 18-year-old Raymone George with a HALO Award in recognition of his work as a mentor and coach to a youth dance troupe. Ne-Yo, who is performing at MTV's New Year's Eve special, also invited George to be his VIP guest for the day. George and the four existing teen honorees each received a baton-shaped HALO Award and scholarship fund from superstar presenters including Richie (The Richie Madden Children's Foundation), Hale (St. Jude Children's Research Hospital, Operation Smile), Morris (The American Society for the Prevention of Cruelty to Animals), Anderson (FACE Diabetes) and former school teacher Williams (supports education) along with other surprises.
Previously announced HALO Award honorees – Allyson Ahlstrom, Matt Ferguson, Kylie Lan Tumiatti and Taylor Waters – were surprised by a visit from Cannon, awarded a grant for their cause and given an once-in-a-lifetime opportunity to meet and connect with a mega-celebrity who shares a similar passion for their cause. Their celebrity matches are Tyra Banks, Emma Stone, Justin Bieber and Josh Duhamel, respectively, and their taped segments will be featured in the show.
Presenting sponsors of the fourth annual TeenNick HALO Awards are Chevrolet, COVERGIRL, Reese's Puffs cereal and Target. During the live taping, each sponsor surprised their respective teen HALO Award honorees with the following:
Chevrolet provided funding for gas and lodging for Ahlstrom as she takes her Threads for Teens boutique on the road this summer, traveling to 48 states with the goal of outfitting a total of 1,000 girls.
In support of Ferguson,

COVERGIRL

donated product for Matt's Chemo Bags, which provide comfort packages to women undergoing chemotherapy for breast cancer.
Reese's Puffs cereal provided Waters with resources for disaster relief kits for her Hurricane Sandy outreach.
Target made over one of Operation Hope Florida's listening rooms and outfitted it with new computers and listening stations to help Tumiatti teach the children of migrant workers how to read.
Nickelodeon's charitable live-action stars joined in the celebration of the extraordinary teens and their service contributions.
Ahlstrom received racks of clothing from various Nickelodeon series from Justice.
Ferguson was given hand-packed care bags by the cast of See Dad Run that he can pass along to chemo patients.
The presenters, performers and celebrity talent in attendance at the

HALO

Awards presented Waters with autographed custom shirts that she can auction off to raise funds for her Red Cross Club.
Pena Jr. and Maslow recorded a digital reading of a book for Tumiatti's Operation Hope Florida.
George was gifted brand-new audio and computer equipment for his dance troupe from TeenNick.
This year's HALO honorees are:
Raymone George, 18, Brooklyn, N.Y. (paired with Ne-Yo) – Raymone George discovered a passion for dancing at The Beacon Center, an afterschool program that provides a safe haven in neighborhoods where poverty and crime is prevalent. Dancing allowed George to work out his frustrations in a creative and healthy manner and he credits it for keeping him out of trouble. He currently spends time choreographing and coaching the center's 10-14 year old dance troupe and works one-on-one with kids who are struggling. George's

HALO

match, Ne-Yo, supports Boys & Girls Clubs of America and founded the Compound Foundation which is committed to increasing awareness about the status of children in the child welfare system. The organization also supports and partners with residential care facilities and independent group homes through programs aimed at teaching entrepreneurship and life skills that will empower them to become productive, successful, independent adults.
Allyson Ahlstrom, 17, Santa Rosa, Calif. (paired with Tyra Banks) – A bubbly and fashion forward self-starter, Allyson Ahlstrom was inspired to combine her love of fashion and community service to create Threads for Teens, an organization that collects and distributes clothing to disadvantaged (low income, foster care, etc.) teen girls. She provides one-on-one support to every one of the girls as they shop, bonding over fashion, talking about their lives and sharing motivational advice. In just two years Ahlstrom moved her organization into a fashionable pink boutique, raised over $130,000 in product donations and outfitted over 200 girls. Ahlstrom's

HALO

match, Tyra Banks, started TZONE at the Lower Eastside Girls Club, providing a rich mix of career development workshops, mentoring, experiential learning opportunities, financial literacy initiatives and community-wide events so hundreds of girls will build self-esteem and develop the tools they need to prepare for lives as entrepreneurs and change-makers in the world.
Matt Ferguson, 18, Hillsboro, Ore. (paired with Emma Stone) – Matt Ferguson was inspired to start Matt's Chemo Bags after finding out his mom had been diagnosed with invasive breast cancer. He began building bags of essential items (lotion, tissues, warm socks, a handmade blanket, a lap pillow, notebook) to distribute to women suffering from breast cancer in hopes that it would bring them the same comfort that a similar bag brought his own mother as she went through chemotherapy. His organization now services all of Oregon, Southwest Washington, and Northern California and has distributed over 7,500 bags. Ferguson's

HALO

match, Emma Stone, is an advocate for Stand Up To Cancer, an initiative created to accelerate innovative cancer research that will get new therapies to patients quickly and save lives now.
Kylie Lan Tumiatti, 16, West Melbourne, Fla. (paired with Justin Bieber) – Kylie Lan Tumiatti developed a passion for giving back to the community early on, after watching her younger sister struggle with learning English. Tumiatti decided to help others who faced similar obstacles and partnered with Operation Hope Florida, a non-profit facility that provides prekindergarten classes to children of migrant workers. Together they implemented a literacy program that enhances the language skills of young children while simultaneously instilling a love of stories and books. Tumiatti's

HALO

match, Justin Bieber, is big supporter of Pencils of Promise, which works to build schools and increase educational opportunities in the developing world.
Taylor Waters, 19, Sanford, N.C. (paired with Josh Duhamel) — A compassionate leader and aspiring teacher, Taylor Waters belief in giving back to her community stems from her personal experiences with disaster. She continues to encourage youth involvement through her hometown American Red Cross and she is establishing her own Red Cross Club at East Carolina University. Waters'

HALO

match is Josh Duhamel, who supports the disaster relief efforts of the American Red Cross, as well as his hometown's Minot Area Community Foundation in North Dakota which establishes permanently endowed funds to support both local and national charities and charitable causes.
Source: PR Newswire