Edward R. Matthews, CEO of United Cerebral Palsy of New York City (UCP of NYC), and Loreen Arbus, Founder & Chair of Women Who Care, announced today that Susan Lucci, now in her fourth season as star of the hit series "Devious Maids," Emmy award-winning actress from "All My Children," and New York Times best-selling author, will return for the fourth consecutive year as host of The 15th Annual Women Who Care Awards Luncheon.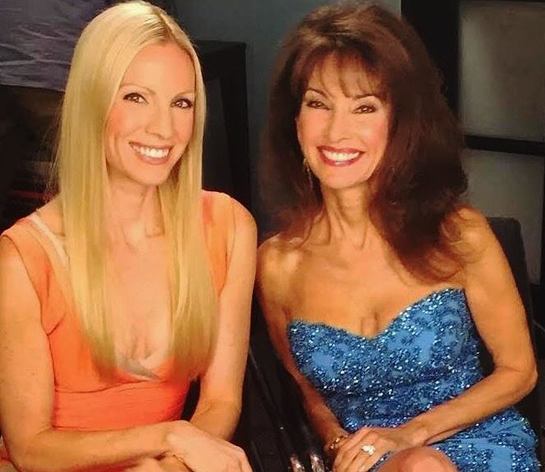 For the first time, Liza Huber, Founder & CEO of Sage Spoonfuls and past star of the hit TV series "Passions," will co-host the awards luncheon with her mother Ms. Lucci, for the event taking place May 9th, the day after Mother's Day. This will mark the first time a mother and daughter team have co-hosted Women Who Care. Ms. Huber has a son, Brendan, with Cerebral Palsy, and was recently featured in People Magazine and on TV shows including "The Dr. Oz Show," "The Meredith Vieira Show," and "Entertainment Tonight" to help raise awareness for Cerebral Palsy and the work of UCP of NYC.
The luncheon, to be held Monday, May 9th, at Cipriani 42nd Street, benefits United Cerebral Palsy of New York City and celebrates the accomplishments of extraordinary women as professionals, philanthropists, and caregivers, who have broken glass ceilings and inspired others through their professional and charitable endeavors. The event has raised nearly $8 million during its fourteen years.
Ms. Lucci is a former Women Who Care award honoree and a longtime celebrity supporter of UCP of NYC.
"I am very touched by United Cerebral Palsy of New York City's impact as a lifeline for thousands of children, families, and adults with disabilities," says Susan Lucci. "I am particularly impressed by the comprehensive nature of their ongoing programs and services which encompass so many different aspects of health, education, assistive technology, and the arts."
In addition to narrating a video for UCP of NYC and Susan G. Komen to help raise breast health awareness for women with disabilities, Ms. Lucci's charitable work is wide-ranging. Her commitment to helping children has taken her to Africa in support of Feed the Children. She has served as the March Of Dimes National Ambassador in 2000, and as a celebrity spokesperson for AMDeC (Academic Medicine Development Company) and The New York Cancer Project. She has also been involved with Broadway Cares/Equity Fights AIDS and is the recipient of the Ellis Island Medal of Honor, the prestigious New York City Gracie Award, and the Muse Award for Women in Film & Television. She was inducted into the Broadcasting Hall of Fame and in 2005 she received a star on the Hollywood Walk of Fame. She was inducted into the American Academy of Achievement Awards and presented with the Italian Board of Guardians Lifetime Achievement Award. In 2015, Ms Lucci was honored with the Disney Legends Award and the Arthur Ashe Leadership Award. In addition, she currently can be seen in Joy, the Academy Award nominated film for Best Motion Picture.
"From the point-of-view of a mother of a child with Cerebral Palsy, I am so honored to help bring awareness to the crucial work being done by UCP of NYC in providing resources for children and adults with disabilities to move forward and live active and independent lives, not just with hope, but with true confidence in themselves," says Liza Huber, Founder and CEO of Sage Spoonfuls.
Ms. Huber is an award-winning author, television personality, public speaker, wife, mother of four and the CEO & Founder of the homemade baby-food company Sage Spoonfuls. She was recently profiled by Forbes as a "Woman Entrepreneur Rocking The World" and has been featured on Good Morning America, Good Day New York, PIX 11 News, People Now and Martha Stewart Radio, among others. She is a featured contributor for The Huffington Post, Green Child Magazine and Big City Moms.
Liza also speaks at national events designed to inspire and empower female entrepreneurs, such as the National Association for Professional Women, Atlanta's Dare 2 Aspire Conference and as the keynote speaker for the Town of Hempstead's 2015 Pathfinder Awards. Liza has been the recipient of the Mom's Best Literary Gold Award, an Independent Publisher's Award, a Parent Tested Parent Approved Seal and a Cribsie Award, and has been honored with the John J Byrne Community Center's Hero of the Community Award, and the Little Flower Children and Family Service's 2015 Humanitarian Award. In addition to the charitable organizations UCP of NYC and UCP of Nassau County, she is a Parent Ambassador for Healthy Child, Healthy World, and has worked extensively with Little Flower Children and Family Services of New York's Parent Youth Program.
Writer, producer, author and activist Loreen Arbus, the first woman to head programming for a US television network, is Founder and Chair of Women Who Care. Among her many awards, Ms. Arbus was presented The Heart of Giving Award by President Bill Clinton in 2001 and the Ms. Foundation for Women Woman of Vision and Action Award by Gloria Steinem in 2011. She is the daughter of Leonard and Isabelle Goldenson, Co-Founders of United Cerebral Palsy (UCP). Mr. Goldenson was Founder and Chairman of ABC. This will mark Ms. Arbus' final year as Chair of Women Who Care.
Tamsen Fadal, Emmy award-winning Anchor of PIX 11 News; Robin Givens, actress/director/author; Donna Hanover, journalist/radio personality and former First Lady of New York City; Ali Stroker of "Glee Project" and "Glee" fame; and Emmy award winner Paula Zahn, host of "On the Case with Paula Zahn," will serve as Co-Chairs of the event.
In addition to Ms. Lucci, previous Women Who Care honorees include Robin Roberts, Judith Light, Cyndi Lauper, Diane Sawyer, Gayle King, Lynda Carter, Lauren Bush Lauren, Judy Woodruff, Amy Lee, Ann Curry, Marlo Thomas, China Machado, Roxanne Mankin Cason, Francine LeFrak, Anne Sweeney, Patricia Duff, Terrie Williams, Dr. Pamela Gallin, Maysoon Zayid, Linda Kaplan Thaler, and many other extraordinarily accomplished women.
Past celebrity presenters for Women Who Care include: Oprah Winfrey, Diane Sawyer, Diane von Furstenberg, Jimmy Smits, America Ferrara, Cynthia Nixon, Ivanka Trump, David Muir, Danny Glover, Meredith Vieira, Alan Rickman, Nicole Miller, Deborah Norville, Charlie Rose, Alex Witt, Cynthia McFadden, Deborah Roberts, Dr. Mehmet Oz, Maurice DuBois, Mike Woods, Regis Philbin, Alan Alda, Michelle Bachelet, the former President of Chile, and many other VIPs.
For more info about the event, click here.