The Water Now clean water campaign to celebrate UN Water World Water Day generated a global social media voice (Twitter, Facebook and Google+ followers) that topped 753 million people.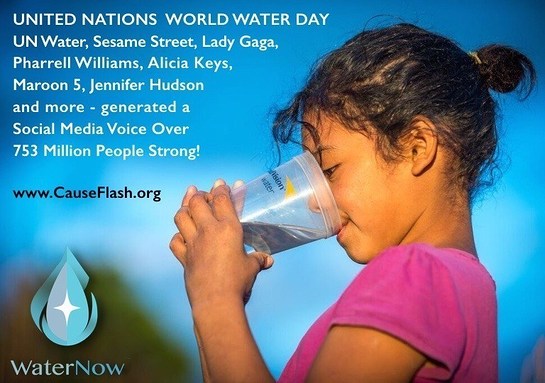 Supporters included UN Water, Sesame Street, Lady Gaga, Pitbull, Alicia Keys, Pharrell Williams, Maroon 5, Justin Bieber, Ryan Seacrest, Jennifer Hudson, Jason Derulo, Meghan Trainor, Nick Jonas, Foster the People, Juanes, Jason Mraz, Robin Thicke, Natasha Bedingfield, Pentatonix, 5 Seconds of Summer and more.
Created by leading philanthropic producer David Clark, CEO of David Clark Cause, Water Now is the largest celebration of UN World Water Day, a day supported by the 193 Member States of the United Nations. "The campaign is proud to support World Vision, the largest and most effective long-term supplier of clean water in the developing world," said Clark
As part of the Water Now initiative to support the life saving work of World Vision water in Kenya and Honduras, a unique partnership has been created with Clean Water Here, an organization that promotes clean water in the United States. With founding partner Watermill Express, which maintains 1,300 kiosks that dispense clean affordable water around the country, every time someone buys a gallon of water at one of their participating locations, a gallon of clean water will be donated on their behalf to a person in need in the developing world via World Vision.
"On behalf of World Vision water, I'd like to thank UN Water, the celebrities and the public for their generous support so we can continue our work providing people in need with the clean water they deserve," said Dr. Greg Allgood, vice president of water at World Vision. "I'd also like to thank Watermill Express for their generous support via their '1 gallon here gives 1 gallon there' initiative," said Allgood.
For a complete list of Water Now supporters visit www.CauseFlash.org.