Brett Ratner and James Packer's RatPac Entertainment announced a new multi-tiered platform for content featuring the United Nations' work around the world entitled In Harm's Way at a private event in Beverly Hills last night.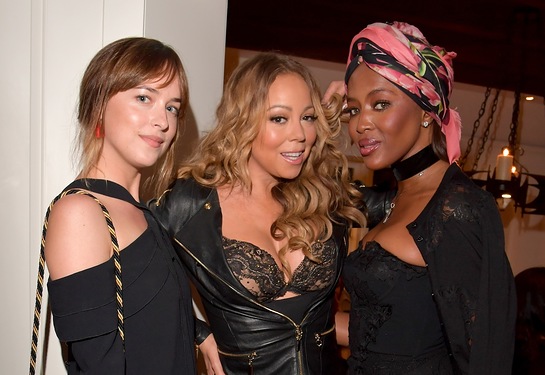 The event, hosted by RatPac's Brett Ratner and Arise Picture's David Raymond, also celebrated Secretary-General Ban Ki-moon's many achievements including the Creative Community Outreach Initiative (CCOI), which he established to encourage the global entertainment industry to use their reach and influence to shed light on current issues such as climate change and the sustainable development goals.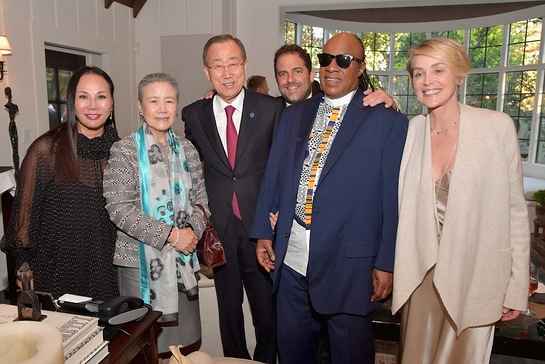 Additional attendees included special guest Mariah Carey, emcee Larry King, UN Messenger of Peace Stevie Wonder, and guests Sophia Amoruso, Jordan Belfort, Camilla Belle, Lawrence Bender, Jim Berkus, Peter Bogdanovich, Rob Bourdon, Naomi Campbell, Julie Chen, Eva Chow, Lee Daniels, Chloe Flower, Mohamed Hadid, Nikki Haskell, Dakota Johnson, Stana Katic, Shawn King, Courtney Love, AnnaLynne McCord, Katharine McPhee, Les Moonves, Wolfgang Puck, Emily Ratajkowski, Shari Redstone, Nicole Scherzinger, Hedi Slimane, Brittany Snow, Sharon Stone, Kevin Tsujihara, Jim Wiatt, Taylor Wilson and more.
In Harm's Way is an event-driven, scripted anthology mini-series created by emerging British filmmaker David Raymond. The returnable series will dramatize true stories of UN staff in the field who are risking their lives to ensure that the Organization fulfills its mandate, with each season focusing on a crisis in a different country. Raymond is also writing the first season, which is set during the UN East Timor crisis in 1999. Future seasons will be helmed by different sets of filmmakers, telling inspiring new stories.
"The UN has a mass of incredible untold true stories. The world needs to know about the amazing work these people have done and continue to do," said Ratner, whose RatPac Entertainment is producing the content along with Raymond's Arise Pictures. "That's why it should involve everyone in the Hollywood community. Different sets of filmmakers can handle different seasons. It's all of us together, shining a much needed spotlight on the United Nations."
This marks the first collaboration of its kind between the United Nations and the creative community, whereby the theme is inspired by real-life stories of UN staff in the field. This landmark partnership was celebrated at tonight's event, attended by the Secretary-General of the United Nations.
"The United Nations is full of stories of courage, heroism and determination. I believe in the power of the creative community to help us share those with the world," said UN Secretary-General Ban Ki-moon. "I thank Brett Ratner, James Packer, David Raymond, and others for being an integral part of that picture."
"I can't say enough about the people at the United Nations. It's taken years of research, but I can honestly say we've barely scratched the surface of stories we can tell," said Raymond. "I pitched it to Brett and he didn't even hesitate. RatPac is a great home for me and the project. We're filmmakers at heart, and we know this is truly something that can make a profound difference around the world."
During the "Rat Pack" themed evening, remarks were made by hosts Ratner and Raymond, as well as by honoree Secretary-General Ban Ki-moon. Special guest Mariah Carey and emcee Larry King addressed guests from the stage.