Mark Ruffalo, Naomi Campbell, Iman, Heidi Klum, Alan Cumming, Ellie Goulding, Alessandra Ambrosio, Diane Kruger, Adriana Lima, Jeremy Piven, and amfAR Chairman of the Board Kenneth Cole were among those who gathered at the 19th annual amfAR New York Gala to pay tribute to actress Scarlett Johansson and Artistic Director Donatella Versace for their longtime support of amfAR and exceptional contributions to the fight against AIDS.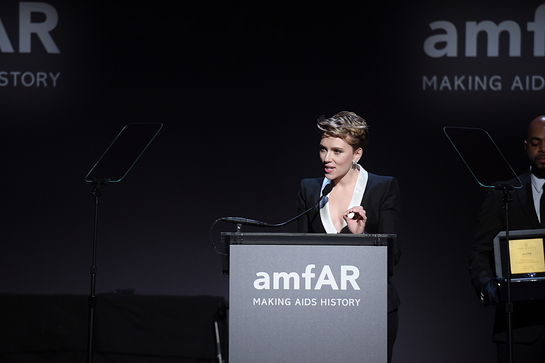 The event, presented by Harry Winston, raised nearly $2 million for amfAR's life-saving AIDS research programs.
Other guests included Amber Valletta, Chloe Sevigny, Victoria Justice, Zoe Kravitz, Zosia Mamet, Karl Glusman, Brad Goreski, Jay Ellis, Zac Posen, Aluna Francis, Anna Cleveland, Emily DiDonato, Georgia Fowler, Daphne Groeneveld, Candice Huffine, Martha Hunt, Sasha Luss, Bridget Malcolm, Barbara Palvin, Andreja Pejic, Josephine Skriver, and more.
Actress, model, and entrepreneur Iman opened the evening, welcoming guests and thanking the fashion community for their continued support of amfAR. She then introduced amfAR's Chairman of the Board Kenneth Cole, who spoke passionately about amfAR's goal to find a cure for HIV by the end of 2020.
Academy Award-nominated actor Mark Ruffalo presented the amfAR Award of Courage to his friend Scarlett Johansson, describing her as a model of grace, compassion, and service to others who is "driven simply by the firm conviction that she should do whatever she can to help those who are less fortunate than she is." Johansson, in an emotional speech about a family friend, Tony, who passed away from AIDS, acknowledged the more than 37 million people around the world who are still suffering from this disease, and dedicated her award to all those who have lost their lives or the lives of loved ones to AIDS.
Actress, activist, and iconic supermodel Naomi Campbell presented the amfAR Award of Courage to her friend, Donatella Versace, describing her as a legend of the fashion world who is "renowned for her generosity." Accepting her award, Versace honored her brother Gianni as a pioneer in the fight against HIV/AIDS, and promised to continue his fight, a cause she said has defined her life and is more important now than ever.
The evening also featured spectacular live performances. Alan Cumming introduced the evening's headliner, Grammy-nominated British pop sensation Ellie Goulding, who ended the evening with an explosive set of her biggest songs, including "On My Mind," "Burn," and "Love Me Like You Do," that had guests on their feet and dancing into the night.
Aluna Francis, of the electronic music duo AlunaGeorge, also took the stage during the evening with a soulful performance of their hit "Not Above Love."
Zosia Mamet and Laurie Simmons also took to the stage to introduce a short documentary film by Matt Wolf about Simmons' best friend, Jimmy DeSana. DeSana was an artist who died of AIDS in 1990, and as an expression of gratitude for the work amfAR does, the film shared his impact on Simmons and her daughter, Lena Dunham, as well as the impact of HIV/AIDS on the creative community as a whole.
Guests enjoyed bidding on exclusive items during the live auction, conducted by Alexander Gilkes. Highlights included:
Guests enjoyed bidding on exclusive items during the live auction, conducted by Alexander Gilkes. Highlights included:
· Douglas Kirkland's 1961 photograph of American icon Marilyn Monroe sold for $70,000.
· A 1998 photograph of amfAR's Founding International Chairman Dame Elizabeth Taylor, taken by Christopher Makos, who Andy Warhol once called "the most modern photographer in America," sold for $40,000 to one of the evening's honorees, Donatella Versace.
· Andy Warhol's polaroid portraits of iconic designers Valentino, Gianni Versace, Giorgio Armani, and Jean Paul Gaultier, sold for $47,000.
· Model Josephine Skriver introduced exquisite Harry Winston Triple Diamond Loop Earrings, with 72 round brilliant cut diamonds and 6 round brilliant cut rubies set in platinum, which sold for $50,000 to one of the evening's honorees, Scarlett Johansson.
· For the first time anywhere, Moët Hennessy offered an opportunity to own a Moët & Chandon vending machine, which provides mini bottles of Moët & Chandon Brut and Rosé. With a hilarious demonstration from Alan Cumming, the world's only in-home champagne vending machine sold for $85,000.
· Diane Kruger introduced two tickets to the 2018 Golden Globes Awards with round-trip airfare to Los Angeles on Delta One, sold for $45,000.
· Running These New York Times, a work by urban graffiti artist Alex Monopoly, chosen for the amfAR New York Gala to signify the constant energy and on-the-run mentality of New Yorkers, sold for $45,000.
· A seven-night stay for six adults at the One&Only Ocean Club in the Bahamas, one of the world's most exclusive resorts, sold for $45,000.
· "Inside the Studio: The amfAR Studio 54 Collection," a limited-edition portfolio of 23 images showcasing the unique spirit of legendary New York nightclub studio 54 and its celebrity regulars, curated by Getty Images and taken by the club's in-house photographer Sonia Moskowitz, who was in attendance, sold twice for a total of $100,000.
· Jeremy Piven helped the fundraising efforts with a pledge drive, encouraging 116% participation, in which everyone who donated over $500 would receive a customized, limited edition Belvedere Bespoke bottle, courtesy of Belvedere Vodka and Moët Hennessy.
The event was presented by Harry Winston. Moët Hennessy was the Signature Sponsor.
FIJI Water and Mandarin Oriental, New York were the Associate Sponsors. Delta Air Lines is the Official Airline of amfAR. The amfAR New York Gala is produced by Andrew Boose/AAB Productions.