By Richard Barker on
Look To The Stars' UK Correspondent, Richard Barker, attended the Caudwell Children Ball last weekend and filed this exclusive report.
As a photographer and a journalist, I am fortunate enough to have many unique experiences, and I'm pleased to say that on Friday night was one of the best!
Archant London hosted a Press Ball for Caudwell Children. The Butterfly Ball at the Landmark Hotel in London's Regent Park was attended by some truly inspiring people. Archant London's Managing Director, Enzo Testa, welcomed the guests telling them though financial conditions were tough, he was confident that by their very presence, their generosity would produce a wealth of cash for the children, and so it proved.


Archant London publishes 29 weekly newspapers and 28 local community websites. With this sort of pulling power it's not surprising that the auction prizes were donated by Muhammad Ali, Mike Tyson and a one off designer dress from Jenny Packham. The top raffle prize was a diamond encrusted Rotary watch.


Caudwell Children, founded in 2000 by entrepreneur John Caudwell, has so far raised more then £10 million. Every penny has gone straight to the children! John picked up the tab for the administration, which is one of the reasons the charity was chosen by Enzo Testa.


He said: "Caudwell Children helps children with terminal illnesses who need support. Every penny we raise goes directly to helping Caudwell do just that. That is why I chose this worthy cause as Archant London's focus for our Butterfly Ball.
"

To achieve the total, a team from Archant London spent a full year organising and collecting prizes and gifts.


Actress Lucinda Rhodes and X Factor singer Andy Abraham donated their time and provided the cabaret with popular broadcaster Mike Read hosting the evening. Other celebrities to attend included Miss England 2009 Rachel Christie, Miss Galaxy International 2010 Hayley Mac, Lynne Franks of I'm a Celebrity Get me out of Here fame and leading PR expert, Lisa Voice self made music and property millionaire and girlfriend of the late 50's rock legend, Billy Fury, Esther McVery presenter, Karen Millen designer and performer Sonique.


The dress donated by designer Jenny Peckham went for £1,400 and a signed Michael Jackson display containing a platinum disc went for £1,500. Mohamed Ali's signed boxing trunks were sold for £2,100. The top prize of the night was a lithograph by legendary artist Pablo Picasso from his Sketchbook collection that eventually sold for £3,000.
I sat with Hayley Mac (Miss Galaxy 2010). She told me that it was a pleasure to be supporting such a worthy cause. She's very passionate about her charity work. Hayley said that she was really pleased that we were raising funds for the kids. She also said that she would love to meet them. We both agreed that there wellbeing is incredibly important.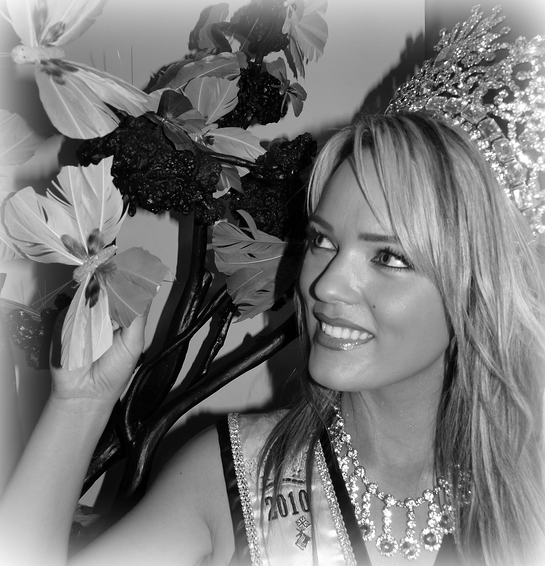 Chief Executive of Caudwell Children, Trudi Beswick thanked Enzo Testa and Archant London for their commitment and for organising the event. She also thanked the many sponsors of the evening by highlighting some of the individual cases where the charity has brought life and fulfilled ambitions.


Many children they help are terribly afflicted by disease and life threatening illnesses, and the charity supplies the means to achieve their ambitions and restore dignity to illness devastated young lives.


She emphasised that every penny goes to helping them achieve ambitions such as just walking or going on a family holiday.


She said: "I am looking forward to meeting Daniel. He is only 10 and suffers from Leukaemia. He was not given much hope of survival and indeed suffered a stroke from which he was not expected to live through. But against all the odds Daniel fought back and has survived, and in November his ambition will come true. We are taking him and his family to Disneyland in America. His life expectancy is very short, but we are pleased to help fulfil this determined young man's wishes."


The battle to help these children continues and as Archant London's chosen charity, readers can make their own donation on www.justgiving.com/archantappeal or by posting a cheque to Archant Appeal, Media House, 539 High Road, Ilford, Essex IG1 1UD. For more details speak to Claire Evans – 020 8477 3939 claire.evans@archant.co.uk
To date Caudwell Children has donated over £10 million to thousands of children with 160 medical conditions. The Charity is committed to changing the lives of children by providing individual donations of specialist equipment, treatment and therapy as well as its annual Destination Dreams holiday for families coping with a child's terminal illness.
Caudwell Children was registered in March 2000 and is widely recognised as one of the country's fastest growing children's charities. Since its inception the charity has doubled every pound raised, achieved through supplier partnerships, which means every pound donated works even harder.
The Charity was founded by entrepreneur, John Caudwell, whose vision was to create a sustainable children's charity that offered benefactors' transparency and piece of mind that 100% of their donation was being used to directly change children's lives.
By donating the cost of the Charity's annual management and administration overheads, John has guaranteed an efficient way for individuals and businesses to change the lives of thousands of sick and disabled children living in the UK.
John Caudwell remains the Charity's largest benefactor and sits as Chairman of the Board of Trustees.
The Charity's ambassadors include Hollywood actress and author, Joan Collins, actress Elizabeth Hurley, Rod and Penny Stewart, Bruce Forsyth and singer Robbie Williams.