Step into designer shoes signed by Scarlett Johansson, Taylor Swift, Martina McBride, Bethenny Frankel, Estelle and Emme for the Heroes in Heels auction.
More are being added to the list, too – Keep an eye out for shoes signed by Ali Larter, Brooke Burke, Susan Lucci, Laura Bryna, Sherri Sheppherd, Reba McEntire, Maria Sharapova, Natalie Distler, Miley Cyrus, Nancy Wilson, Kimberly Caldwell and Colbie Caillat.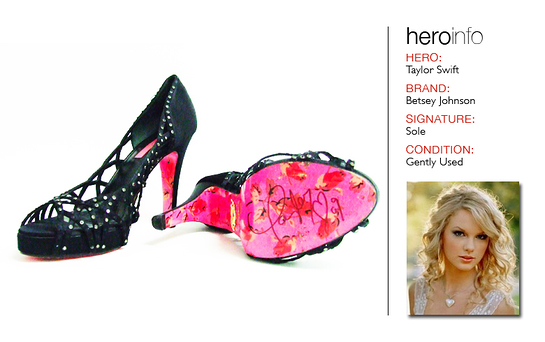 The Wish Upon A Hero Foundation created the Hero In Heels program to benefit women affected by cancer.
Hero in Heels is an annual fashion show held every spring where famous women donate a signed pair of shoes for the auction. The money raised from the auction and from corporate sponsorships benefit women who are suffering with cancer. It's great publicity for a great cause.
Step forward and make a difference in someone's life. The online portion of Hero In Heels is now open. The auction runs from March 1, 2010 to April 8, 2010, with the live event taking place on April 8, 2010. Online bidding closes at 9pm.
Full auction details can be found at BiddingForGood.com