On both sides of the world, the movement to ban the trade and sale of shark fin products has gained an impressive roster of noteworthy supporters including Leonardo DiCaprio, James Cameron, Wolfgang Puck, Gordon Ramsey, Richard Branson, Yao Ming, Mario Batali, Edward Norton, and Chinese billionaire Zhang Yue.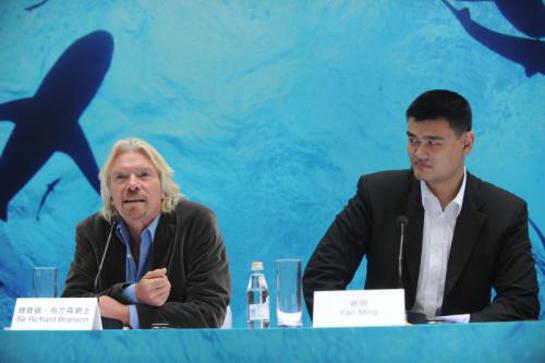 In California, WildAid, NRDC, and The Humane Society of the United States worked with DiCaprio, Norton, and Yao to write a joint letter to Governor Jerry Brown, urging him to sign California's Assembly Bill 376, which will ban the import, trade, and possession of shark fin in California. AB 376 has already passed both legislative bodies with bi-partisan support – and currently awaits the Governor's signature. The letter, also signed by over 50 additional notables including James Cameron, musician Jackson Browne, and actress Rosario Dawson, asserts that the ban is "absolutely necessary if we are to conserve sharks and, in effect, our entire ocean ecosystem."
Meanwhile in Shanghai, WildAid hosted a luncheon on Thursday with Yao Ming, leading British entrepreneur Sir Richard Branson, and leading Chinese entrepreneur Zhang Yue to call for greater protection of sharks and to premiere two new public service announcements featuring Yao and Branson. Yao publicly committed to stop eating shark fin soup in 2006 after learning of the cruel and wasteful practice of "finning" and the threat of extinction facing many shark populations as a result of demand for their fins – he has been an Ambassador for WildAid ever since. Branson is backing the shark conservation campaign after swimming with whale sharks during their annual migration through the Gulf of Mexico.
WildAid and its peer organizations recruited internationally renowned chefs Wolfgang Puck, Mario Batali, Gordon Ramsey, Cecilla Chiang, Hiro Sone, and Mary Sue Milliken & Susan Feniger, along with 20 other significant figures from the culinary world, pledging to never serve shark fin soup at their restaurants. Even the Food Network has jumped on the bandwagon, with a recent announcement to no longer feature shark products throughout their portfolio of media properties.
AB 376 also has overwhelming public support, with a recent survey by the Monterey Bay Aquarium indicating that 76% of all registered voters in California, and 70% of Chinese-American voters, are in support of this ban. A coalition comprised of dozens of conservation organizations has cumulatively encouraged over 150,000 Californians to take action in support of this bill.

Up to 73 million sharks per year are slaughtered primarily for their fins to make shark fin soup, a popular Asian delicacy. Shark finning is a cruel and wasteful practice – captured at sea and hauled on deck, the sharks are often still alive while their fins are sliced off. Because shark meat is not considered as valuable as the fins, the maimed animals are tossed overboard to drown or bleed to death. An estimated 1/3 of shark species are currently threatened with extinction, according to the International Union for the Conservation of Nature, with only a handful under any sort of legal protection.