For 50 years, the entertainment industry has embraced the lifesaving mission of St. Jude Children's Research Hospital.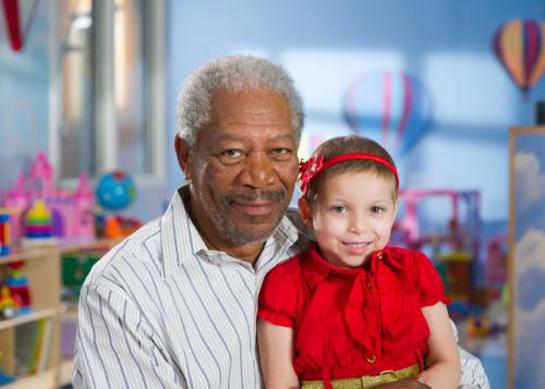 When Danny Thomas set out to build the hospital in 1962, some of the biggest stars of that era such as Frank Sinatra, Dean Martin, Elvis Presley, Sammy Davis Jr., Dinah Shore and Jack Benny donated their time and talents to help raise awareness and funds for St. Jude. Today, that tradition continues with celebrities from film, television, music and sports all donating their time, talents and support to the 2011 St. Jude Thanks and Giving campaign.
Starting this November, Jennifer Aniston, Robin Williams, Morgan Freeman, George Lopez, Shaun White, Dwyane Wade and singer Luis Fonsi will join Marlo Thomas in helping raise awareness and funds for St. Jude, one of the world's premier centers for the research and treatment of pediatric cancer and other deadly childhood diseases.
"It's always so inspiring to meet the St. Jude patients and their families each year," said Jennifer Aniston, who appears alongside St. Jude patient Hayli in one of this year's television spots. "They have this incredible strength and spirit that remind you that although they are just kids they are fighting for their lives against a very adult disease."
Heartwarming national television spots for the Thanks and Giving campaign will air featuring each celebrity paired with the biggest stars of all – St. Jude patients. The spots will air across broadcast and cable networks in English and Spanish and online. The celebrities are also featured in a movie trailer that will appear on screens nationwide at theatre industry giants including Regal Entertainment Group, AMC Entertainment, Cinemark and Carmike Cinemas as well as many others. In addition, the trailer will be shown on American Airlines and Delta Air Lines flights. All the spots, as well as exclusive behind-the-scenes footage, will debut at www.stjude.org on Nov. 22.
"No family ever pays St. Jude for treatment thanks to the thousands of people across the country who support programs like Thanks and Giving," said Morgan Freeman, who appears alongside St. Jude patients Mia and Camryn in one of this year's television spots. "With your help, we can help give hope this holiday season to kids battling cancer and other deadly diseases."
Created by Marlo Thomas, and her siblings Terre and Tony Thomas, the Thanks and Giving campaign brings together celebrities, media and corporations to ask shoppers to "Give thanks for the healthy kids in your life, and give to those who are not."
"Fifty years ago my father, Danny Thomas, went to the entertainment industry to help him found St. Jude Children's Research Hospital," said Marlo Thomas, national outreach director for St. Jude. "It means so much to the Thomas family that the new generation of entertainment has also taken the St. Jude families to their hearts and are committed to St. Jude's lifesaving mission of finding cures and saving children."
The campaign will also get a boost of star power from several new and returning friends of St. Jude that encompass a wide spectrum of the entertainment industry. This year, the star of the upcoming NBC show "Smash" Katharine McPhee will serve as the St. Jude Give thanks. Walk. grand marshal and will walk alongside St. Jude supporters at the New York City walk. History Channel's "American Pickers" star Mike Wolfe and his Antique Archaeology-Nashville crew will rally his fans to donate to St. Jude in support of his participation in the Nashville Give thanks. Walk. and Disney stars Elise Neal ("A.N.T. Farm") and Adam Irigoyen ("Shake it Up") will join walkers at the Los Angeles event. On the fashion front, Victoria's Secret model Lily Aldridge is modeling the new DKNY tee from the St. Jude Holiday Gift Book that features a poem written by 10-year-old St. Jude patient Micah. Country music artist Blake Shelton, comedian George Lopez and actor Hill Harper have taken to the airwaves and recorded special radio messages in English and singer Luis Fonsi has recorded messages in Spanish that will air on more than 200 radio stations across the nation during the holiday season.
"Throughout my years of participating in the Thanks and Giving campaign and supporting St. Jude I have been able to meet some incredible little kids like Trevor," said Robin Williams, who appears alongside St. Jude patient Trevor in one of this year's television spots. "Although St. Jude is a place dealing with some very serious issues, it is also a place filled with so much hope and laughter."
Thanks and Giving was created to build awareness and raise funds for St. Jude during the season that exemplifies thanks and giving to so many. The official kickoff event for the campaign is the annual St. Jude Give thanks. Walk. held on Nov. 19 in 80 communities nationwide. The campaign then runs from Thanksgiving week through the end of the year.
St. Jude is the nation's leading pediatric research and treatment center devoted solely to children with cancer and other deadly diseases. It is the only pediatric cancer research hospital that covers all of the costs for treatment, travel, food and lodging for each patient and a family member. To learn more about the Thanks and Giving campaign and to learn about the more than 60 brands participating in the campaign, visit www.stjude.org.