Tony Bennett and his wife Susan Benedetto, hosted a gala event for Exploring The Arts last week which raised over $1.2M for arts education in NYC public high schools.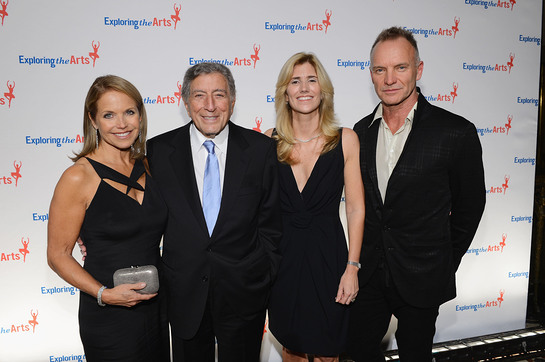 17-time Grammy winner Sting opened the evening with a performance followed by gala host Katie Couric, who conducted an on stage interview with students supported by Exploring the Arts programs. The evening was capped by a performance by 17-time Grammy winner Tony Bennett. Barbara Walters presented the Exploring the Arts Award to Deborah and Allen Grubman for their long-standing support of the arts.
Among the 400 guests attending the event at Cipriani 42nd Street in New York City, were Jon Bon Jovi, Alec Baldwin, Regis and Joy Philbin, Lorraine Bracco, Bryant Gumble, Leader Nancy Pelosi, Governor Mario Cuomo, Donna Karan, Clive Davis and Elaine Wynn.
Tony Bennett commented, "There is no debate that the arts have a crucial role to play in our children's education and it should be everyone's mandate to ensure that they are protected in our public school curriculum. My wife Susan and I want to thank everyone who has supported the arts and all those who attended our gala this evening."
Founded in 1999 by legendary American singer and painter, Tony Bennett, and his wife, Susan Benedetto, Exploring the Arts' mission is to strengthen the role of the arts in public high school education. ETA programs connect private funders, individual artists, and cultural institutions to Partner Schools to achieve greater equality of resources and opportunity for youth of all means and backgrounds. Tony Bennett and ETA's initial endeavor was the founding of, in association with the Department of Education of NYC, the Frank Sinatra School of the Arts — a state of the art NYC public high school offering an extensive arts education curriculum located in Tony's hometown of Astoria, Queens. Currently ETA supports 14 Partner Schools in all five boroughs of the city. This 2011-12 school year, the majority of students at ETA's Partner Schools qualified for free or reduced-price lunch; 66% of students lived below the poverty line; many will be the first in their families to attend college. ETA distributed over $300,000 in college scholarships to New York City graduating high school seniors in 2012. Since Exploring the Arts' inception they have awarded over half a million dollars in college scholarships and $100,000 in summer arts scholarships. For more info, visit www.ExploringTheArts.org.
Source: PR Newswire