Producer Joseph Avallone announced today the upcoming release of the animated feature film Henry & Me, a baseball-themed tale of a young cancer-stricken boy's magical and life-changing experience with New York Yankees old and new.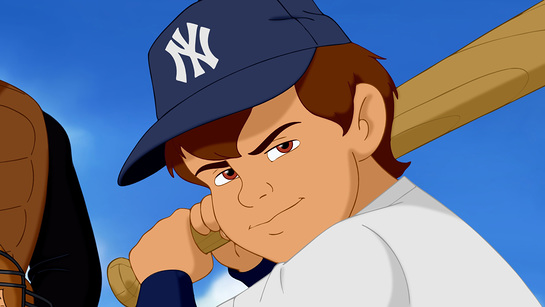 The film, which features an all-star line-up of voices including Richard Gere, Cyndi Lauper, Chazz Palminteri, Lucie Arnaz, and Paul Simon, also includes Yankee greats Mariano Rivera, Reggie Jackson, Hideki Matsui, Yogi Berra, Jorge Posada, CC Sabathia, and Mark Teixeira, among others, and current Yankees manager Joe Girardi and co-chairman Hank Steinbrenner.
For more information, please visit www.HenryAndMeMovie.com.
Henry & Me, inspired by the best-selling children's books by Ray Negron, was written by David I. Stern, screenwriter of such animated features as Open Season 2 & 3 and the Annie Award-nominated Free Birds. Barrett Esposito, winner of the Best Directorial Debut prize at the New York International Independent Film & Video Festival for his 2001 feature Mourning Glory, directs.
Henry & Me will have its world premiere at the Ziegfeld Theater (141 W 54th St.) in New York City on August 18, 2014, as well as a limited theatrical engagement in partnership with Bow Tie Cinemas in New York City prior to its worldwide DVD and digital launch (Video On Demand, Amazon, iTunes, etc.) on September 9, 2014. In an exclusive deal with the New York Yankees, it will be also sold at Yankee Stadium during all home games following the launch.
A portion of the proceeds from the DVD and digital sales of Henry & Me will benefit a collection of participating charities including: Cyndi Lauper's True Colors Fund, St. Jude Children's Research Hospital, Lou Gehrig Society, Yogi Berra Museum and Learning Center, Yankees Foundation, Jason Mraz Foundation, International Campaign for Tibet, Children's Health Fund, NIMBY, The Max Cure Foundation, CC Sabathia's Pitcch In Foundation, Joe Girardi's Catch 25 Foundation, Harlem RBI, Leukemia Society, Curtis Granderson's Grand Kids Foundation, Sarah McLachlan's Sarah School of Music, Pitch for a Cure, American Cancer Society's Hope Lodge, and many more.