The Legacy of Hope Foundation, a nonprofit organization working to support the building of the Nelson Mandela's Children's Hospital (NMCH) in Johannesburg, South Africa, announces a streamed concert and worldwide media event to take place on Wednesday, July 15, 2015, at Barclays Center in Brooklyn, NY.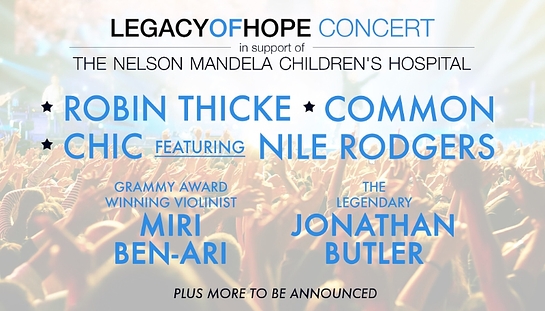 Artists Robin Thicke, Common, CHIC featuring Nile Rodgers, Grammy Award winning violinist Miri Ben-Ari, and South African musical legend Jonathan Butler are performing, with more to be announced.
Tickets to the show will go on sale Monday, June 29 at 10 a.m. and can be purchased online by visiting BarclaysCenter.com or Ticketmaster.com, or by calling 800-745-3000. Tickets can also be purchased at the American Express Box Office at Barclays Center beginning Tuesday, June 30 at noon (if tickets are still available).
Artists and celebrities will join together celebrating Nelson Mandela's love of children and his wish to create the NMCH. The NMCH will be only the 5th dedicated children's hospital on the entire continent of Africa, home to 450 million children. This event will be streamed live worldwide, enabling people across the globe to support healthcare reform for children through micro-donations.
Concert performances will be streamed in real time through the Legacy of Hope website. Tickets for the live stream are available now here. There will also be a VIP option, allowing viewers to have access to an exclusive stream of the special VIP room as well as the rest of the concert. The audience in the VIP room will be children from selected charities from the five boroughs, as children are always the VIPs of this valued campaign. This section will feature backstage performances, interviews, special content, and features from artists and presenters before they take the stage.
The NMCH will provide access to high-quality medical care for the children of Southern Africa, regardless of their ability to pay. This facility will have a profound, transformative effect on healthcare in the region.
The Legacy of Hope Honorary Board consists of Ruby Bridges, Christy Turlington Burns, Ed Burns, Viola Davis, Dame Judi Dench, Arun Gandhi, Whoopi Goldberg, Dr. Sanjay Gupta, Katherine Heigl, Sir Anthony Hopkins, Ashley Judd, Nicole Kidman, Larry King, Sir Ben Kingsley, Salma Hayek Pinault, Natalie Portman, Susan Sarandon, Octavia Spencer, Charlize Theron, Ben Vereen, Barbara Walters, Elie and Marion Wiesel, Princess Dalal Al-Saud, and the late Dr. Maya Angelou.