The Entertainment Industry Foundation (EIF), a leading charitable organization of the entertainment industry, today announced the latest round of celebrity participants for the star-studded "roadblock" fundraising telecast in support of Think It Up, EIF's new national education initiative, on Friday, September 11, 2015, at 8 pm ET & PT / 7 pm CT.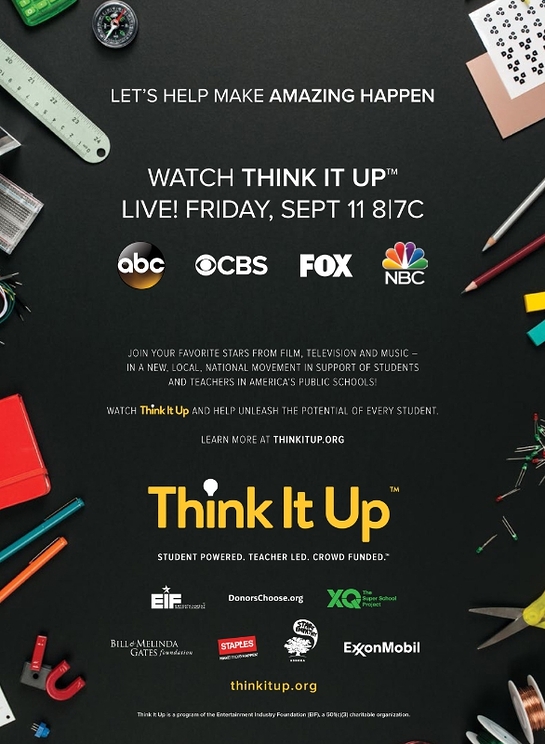 Today EIF announced the telecast will include special musical performances from Justin Bieber and Kacey Musgraves, as well as appearances by Jason Bateman, Halle Berry, Julie Chen, Terry Crews, Jennifer Garner, Taylor Lautner, Joe Manganiello, Seth Meyers, and J.K. Simmons.
Previously announced participants include Kristen Bell, Stephen Colbert, Scarlett Johansson, Matthew McConaughey, Gwyneth Paltrow, Jeremy Renner, Ryan Seacrest and Jessica Williams.
ABC, CBS, FOX and NBC will simultaneously broadcast the live Think It Up one-hour special from the Barker Hangar at the Santa Monica Airport.
Think It Up seeks to inaugurate a new movement in support of the nation's students, teachers and schools, helping generate excitement about learning everywhere in America and building a sense of optimism about the changes underway in classrooms across the country. Because education is the cornerstone of our democracy and economy, Think It Up aims to renew a sense of promise for all of America's public school students. With new technologies, ingenuity and higher expectations, we are living today in the most dynamic era in learning and education since free public school was established in the US.
The telecast, which is produced by Jesse Ignjatovic and Evan Prager for Den of Thieves, working with Entertainment Industry Foundation producers, is designed to spark a new excitement for learning across the country, as well as to launch and accept donations via thinkitup.org, a first-of-its-kind platform to fund student-powered, teacher-led learning projects in partnership with DonorsChoose.org, the popular teacher crowdfunding charity.
These projects will facilitate meaningful learning for the students involved, and will help students connect what they working on in the classroom today to the challenges they will face in the future. In addition to aggregating funds from citizen donors, thinkitup.org will make it possible for major donors, such as corporations, philanthropists and foundations, to match some public contributions. Think It Up major supporters include Staples, The Bill and Melinda Gates Foundation, ExxonMobil and Ashoka's Start Empathy Initiative.
In addition to the roadblock telecast, Think It Up will engage celebrities and education/community influencers to help keep a steady drumbeat of excitement about learning and encourage ongoing support for students and teachers. National public awareness campaigns featuring celebrity ambassadors will run across all media platforms, including print, broadcast, digital, out-of-home and radio.